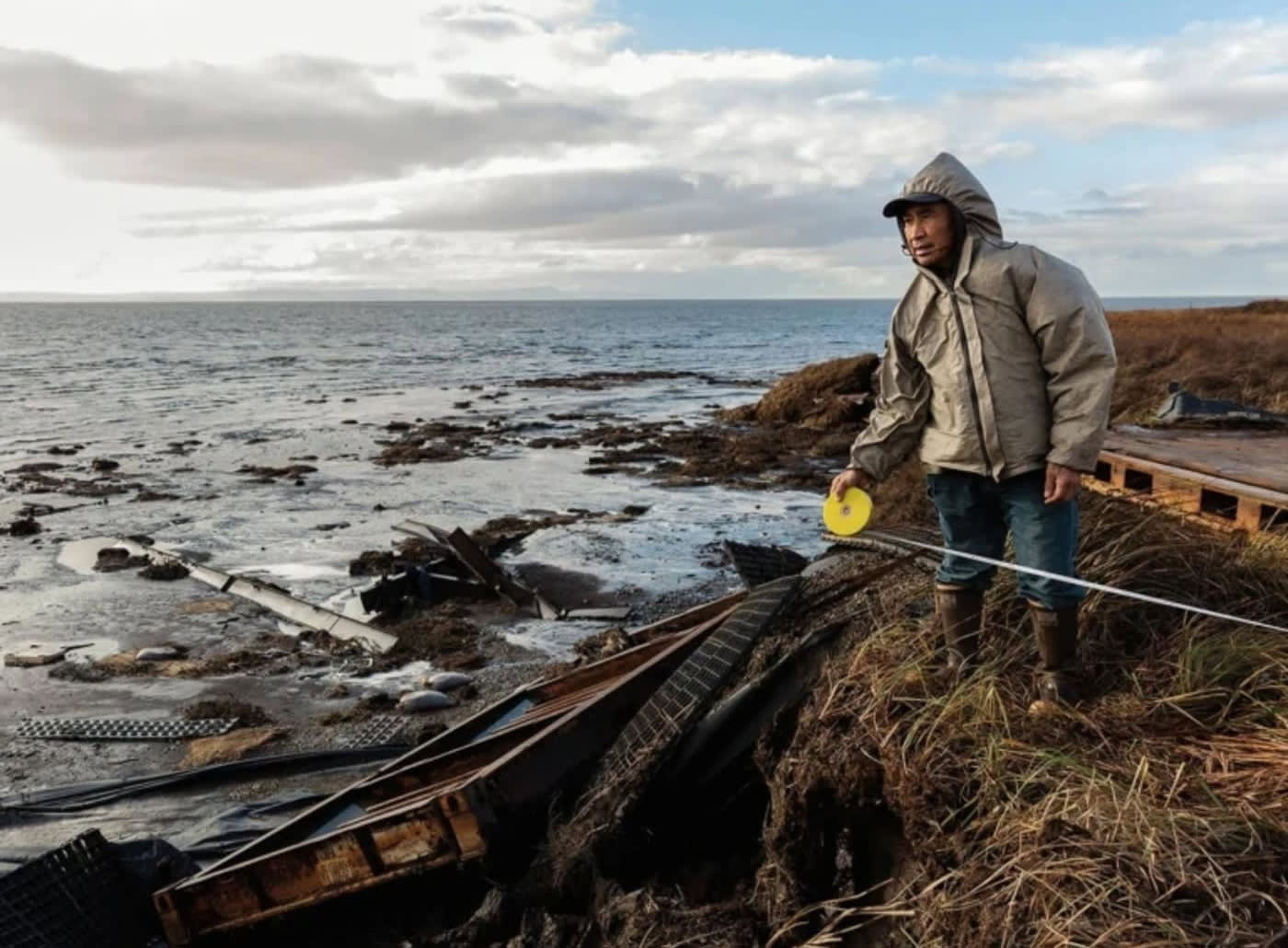 Tuesday
May 3, 2022 | 6:30pm

Doors open at 6:30PM
Screening starts at 7:30PM
Water will eventually erase Newtok, Alaska. Built on a delta at the edge of the Bering Sea, the tiny Yup'ik village has been dealing with melting permafrost, river erosion and decaying infrastructure for decades. To keep their culture and community intact, the 360 Yup'ik residents must relocate their entire village to stable ground upriver while facing a federal government that has failed to take appropriate action to combat climate change. In moving their village, they will become some of America's first climate change refugees. This is a film of a village seeking justice in the face of climate change.
Following the screening, filmmakers Andrew Burton, and Michael Kirby Smith will participate in a post-screening discussion.
Bios:
Andrew Burton is a Pulitzer Prize finalist, documentary photographer and filmmaker whose focus is on news, conflict and environmental issues. He is a former Fellow at the University of California, Berkeley's Investigative Reporting Program (2016-2017). Burton's first feature film, Newtok, co-directed by Michael Kirby Smith, was acquired by Patagonia Films and released in 2022. Burton is a founding partner of ROAN Films. Recognition that Burton has received for his photographic work include a Pulitzer Prize nomination; Photographer of the Year International; Sundance Institute (Grantee); Sony World Photo Awards; Fund for Investigative Journalism (Grantee); and many other awards. His work has been published in The New York Times; The Wall Street Journal; National Geographic; The New Yorker; TIME and The Guardian, amongst others. He has a degree in journalism with a focus in photography from Syracuse University's S.I. Newhouse School of Public Communications.
Michael Kirby Smith is an Emmy-winning filmmaker and photographer. He has worked extensively for The New York Times as a photographer and senior video journalist. His photography has been published by The New York Times, National Geographic Magazine, TIME Magazine, FADER, Bloomberg Businessweek, The Wall Street Journal, and Newsweek, among others. He has worked as a director and director of photography for The New Yorker, PBS Frontline, National Geographic Explorer, Rolling Stone, Netflix, Vice, and Human Rights Watch. His film and photography work has been recognized by the Emmy Awards; the Sundance Institute (Grantee); American Photography; the Fund for Investigative Journalism (Grantee); the Pulitzer Center on Crisis Reporting (Grantee) and many others. Michael graduated from the University of Texas at Austin with a degree in studio art, focusing on photography and video art.
© Newtok