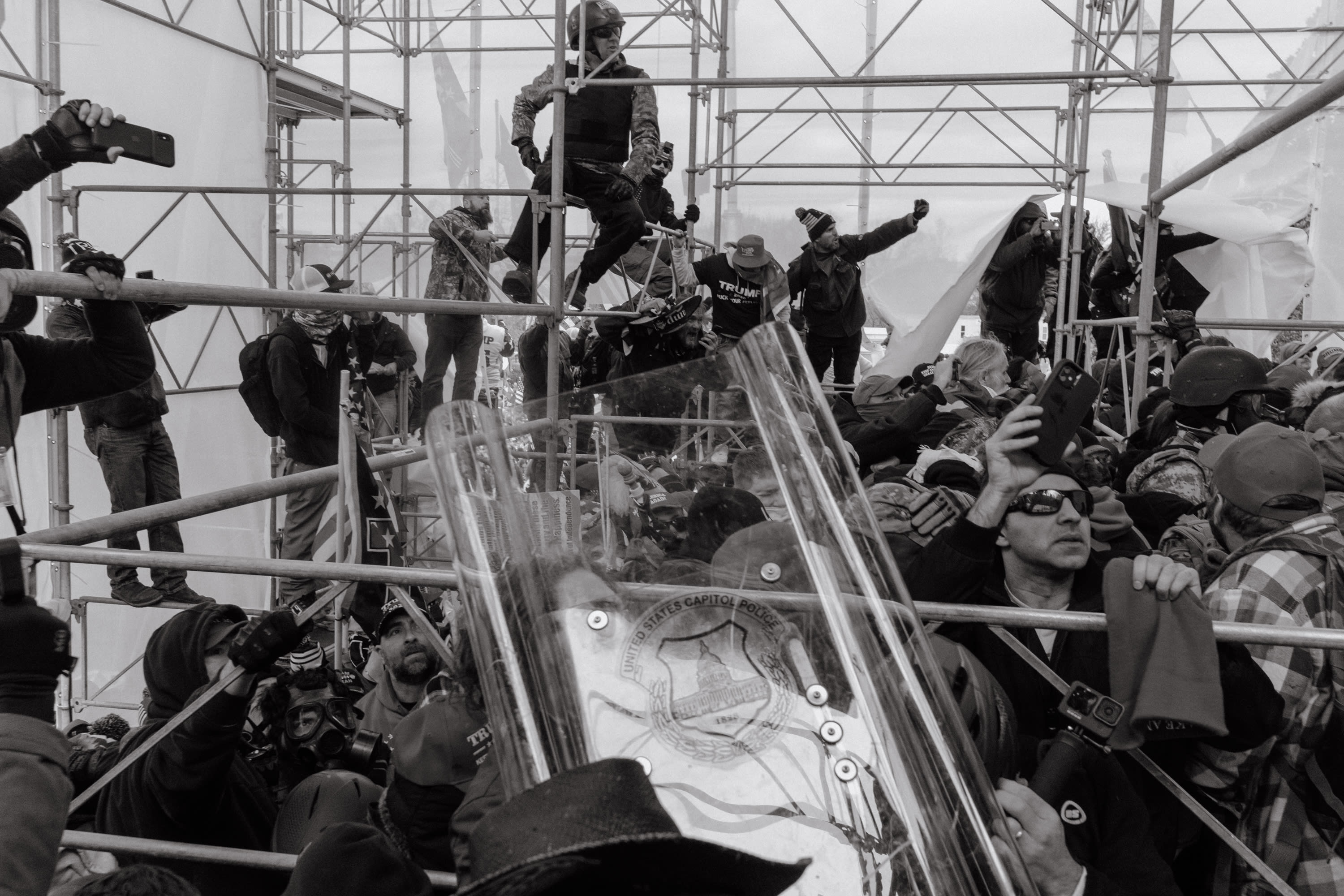 Friday
Mar 11, 2022 | 7pm

Join exhibiting photographers Mostafa Bassim, Gabriela Bhaskar, Victor J. Blue, Shuran Huang, Christopher Lee, Dakota Santiago, as they discuss their experience documenting the storming of the Capitol on January 6, 2021. This event is held in conjunction with the exhibition Storming of the Capitol which is on view at the BDC until March 20, 2022.
Face masks are optional at this event.
Bios
Mostafa Bassim is a photojournalist and documentary photographer. His career in photojournalism began during his participation in the January 25th revolution in Egypt, when he co-founded "Sotna" a local newspaper in his hometown and started documenting the atrocities committed by the regime. @mostafa_bassim
Gabriela Bhaskar is a freelance photojournalist based in New York City. She is a graduate of the Columbia Graduate School of Journalism where she focused on multimedia storytelling incorporating audio, video and writing to accompany her photography. She is part of inaugural class of Women Photograph Mentees and was a 2017 Overseas Press Club Foundation Scholar. She is available for assignments worldwide. @dontgabalot
Victor J. Blue is a New York-based photojournalist whose work is most often concerned with the legacy of armed conflict, human rights and the protection of civilian populations, and unequal outcomes resulting from policy and politics.
Shuran Huang is a Cantonese photojournalist based in Washington, D.C. Through moments of intimacy, her work focuses on politics, immigration, human rights, diaspora experiences, and interactions in between. Shuran also serves as an adjunct professor at Sacred Heart University, providing graduate students hands-on training on Adobe programs and teaching multimedia technologies for effective communication. @shuranhuang
Christopher Lee is a Korean American photographer based in New York City and . Chris is particularly drawn in his work around issues of forced migration, subcultures and vulnerable and underrepresented communities. @theotherchrislee
Dakota Santiago is a photographer with an interest in covering the social issues that plague the contemporary landscape of New York City. These issues range from recording the harsh conditions that tenants in the Bronx are forced to endure by slumlords, to creating a modern-day document of the ever-changing landscape and demographics that make up the city's working-class population. He is a 2016 graduate of New Jersey City University's BFA concentration in photography program. Since graduation, he has gone on to accept invitations to attend prestigious programs, such as the Eddie Adams Workshop XXIX and the 4th and 7th Annual New York Times Lens blog portfolio review. He was also a recipient of the 2020 Darryl Chappell Grant to Afrodescendent Artist. Besides commercial and editorial client work, he is strictly an analog photographer in the darkroom. IG: @metrospecial
IMAGE: © Christopher Lee