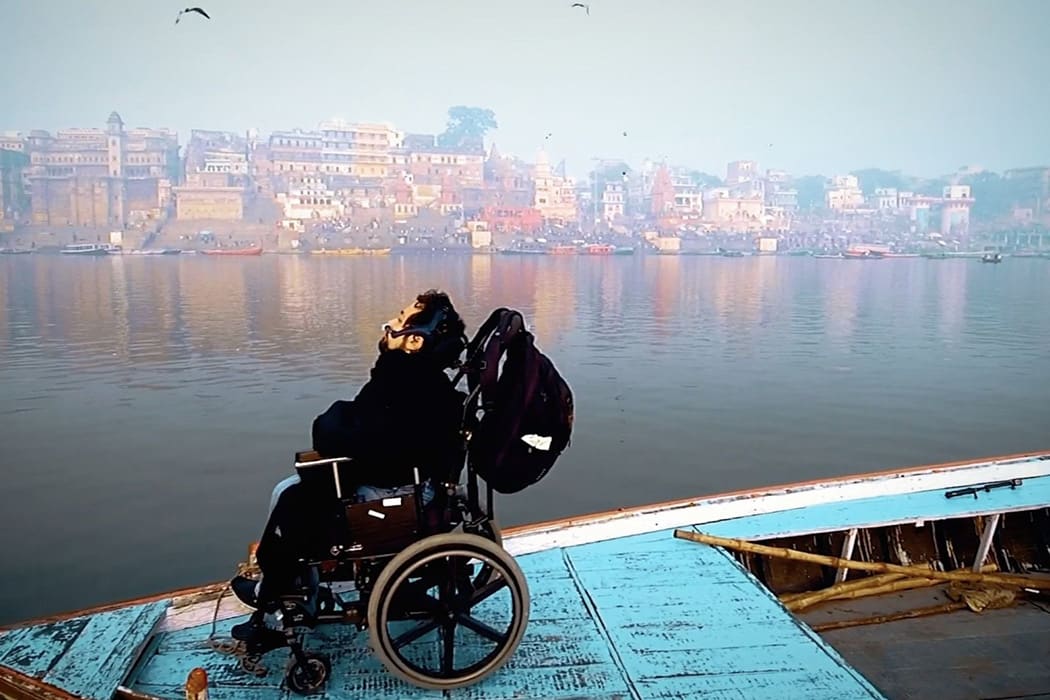 Wednesday
Sep 21, 2022 | 7pm
Join Unconfined director and film subject Victor Pineda for a post-screening conversation with co-screenwriter and producer Zachary Kerschberg.
Confined to his room during Covid, Victor Pineda, an urban planner, activist, professor and filmmaker that uses a breathing machine 24/7, continues his search for what makes a life worth living. The documentary contrasts an earlier crisis in Victor's life and the expansive, chaotic trip he took to Varanasi, India with present-day meditative Vlogs that shed light on his life search for meaning.

Director: Victor Pineda
Screenplay: Jon Amiel, Zachary Kerschberg, Victor Pineda
Producers: Jon Amiel, Maria Florio, Zachary Kerschberg, Jim Lebrecht, Ray Lifchez, Stephen Nemeth, Victor Pineda


Bios:
Victor Pineda is an award-winning documentary filmmaker, urban planner, social entrepreneur, and globally recognized disability rights advocate. His films have screened at international festivals around the world, including the American Documentary Film Festival, Newport Beach International Film Festival, Marbella International Film Festival, Oaxaca Film Fest, and Boston Latino International Film Festival, among others. His last documentary, Beauty Factory, was acquired by Gravitas Ventures, had a worldwide release and is currently the #3 All-time bestseller on iTunes for Spanish Language Documentaries. He has additionally produced pieces for the United Nations, Paralympics, the Courage Center and the World Bank. He founded the Pineda Foundation/World Enabled, a global nonprofit that promotes the rights of people with disabilities. He holds a PhD in Urban Planning from UCLA, is a two-time presidential appointee in the Obama Administration, and is the recipient of the Jefferson Award, a Fulbright-Hays Fellowship to the United Arab Emirates, and the Tom Clausen Award for leadership in business and public policy. He is proudest of his ability to breathe deeply.
Zachary Kerschberg is a documentary and narrative filmmaker, whose films have screened at Cannes, SXSW, and the NYFF and have been distributed nationally and internationally on PBS, Cable Networks, and VOD platforms. His documentary Beauty Factory was distributed worldwide by Gravitas Ventures and his film Seeing the Full Sounding won the American Documentary Film Festival. He has created work for the United Nations, the World Bank, France24, Al Jazeera, and Doha Debates. He is a recipient of a Fulbright Fellowship and a National Board of Review Grant, is an alumnus of the Berlinale Talent Campus and a former resident at SF Filmhouse. He holds an honors BA from UC Berkeley in Romance Languages and Literatures and an MFA in Dramatic Writing and Film Production from New York University
©