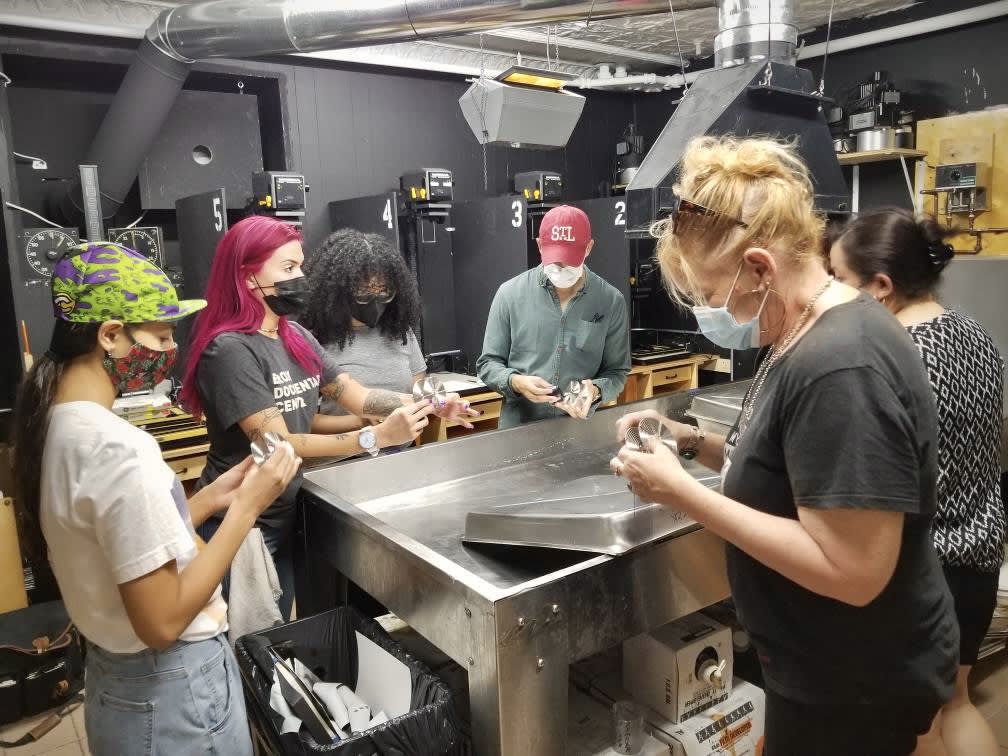 Clase de Fotografía Análoga en Blanco y Negro

Tuesday
Oct 25, 2022 | 6pm

6 clases: 25 de octubre, 8,15, 22, 29 de noviembre y 13 de diciembre, 6-9PM
Register Here

En este taller los participantes aprenderán cómo usar la cámara análoga de 35mm, revelar su propia película fotográfica y hacer impresiones en gelatina de plata en el cuarto oscuro del BDC. A través de demostraciones, asignación de tareas y críticas, los participantes ganarán confianza en usar la cámara análoga, composición en fotografía y en la realización de todos los procesos del cuarto oscuro.
El BDC tiene un número limitado de cámaras disponibles para los alumnos durante las horas de clase. Por supuesto que es preferible que los estudiantes tengan su propia cámara de film de 35mm para que puedan practicar en las horas fuera de clase.
Los estudiantes tienen que comprar su propia película fotográfica en blanco y negro y el papel para trabajar en el cuarto oscuro. El BDC tiene para la venta la película fotográfica y el papel, o podemos recomendar las tiendas en donde pueden ser comprados.
Biografías de los instructores:
Mike Kamber ha sido fotoperiodista y editor durante más de 30 años trabajando para The New York Times y muchas otras publicaciones. Comenzó a filmar y procesar películas en blanco y negro en cuartos oscuros en la década de 1970.
Belinda Gallegos trabajó como fotógrafa para la revista de un sindicato por 17 años, enseñó fotografía a miembros del sindicato y ha sido parte de exhibiciones de fotografía en grupo.

/////////////////////


Black and White Film Photography Class in Spanish
6-Day Workshop: October 25, November 8, 15, 22, 29, and December 13, 6-9PM
Register Here
In this workshop, participants will learn how to use 35mm analog film cameras, develop their own film and make silver gelatin prints in the BDC's darkroom. Through demonstrations, class assignments and critique, participants will gain confidence in using analog cameras, in composing photographs, and in performing all darkroom processes.
The BDC has a limited number of cameras available to loan students during class hours. Of course it is preferable that students have their own 35mm film camera so they can practice outside of class.
Students must purchase their own film and black and white paper to work in the darkroom. The BDC offers film and paper for sale or can recommend stores where it can be purchased.
Instructor Bios:
Mike Kamber has been a photojournalist and editor for over 30 years working for The New York Times and many other publications. He began shooting and processing black-and-white film in darkrooms in the 1970s.
Belinda Gallegos worked as a photographer for a union magazine for 17 years, taught photography to union members, and has been part of group photography exhibitions.