We're Hiring | College Counselor
The BDC is seeking a part-time counselor to provide college counseling to BJPL high school students.
Title:
College Counselor (part-time)
Reports to
: Director of Education
Download the PDF

Applications accepted on a rolling basis through September 17, 2021
Bronx Documentary Center
The Bronx Documentary Center (BDC) is a non-profit gallery and educational space; we use community-based documentary practice and education to explore vital issues, stimulate critical thought, and drive social change. Through documentary photography, film, and multimedia storytelling we foster dialogue around contemporary local, national, and global issues.
The Bronx Junior Photo League (BJPL) is the BDC's documentary photography and college success program serving middle through high school students. This program serves around 100 students each year after-school (October - June) and during the summer (July - August) and continues to support nearly 30 alumni. Students in this program have been awarded recognition from the Scholastic Arts & Writing Awards, the New York Times, the BBC, and Photoville, among others, and have traveled to share their work in Maine, Japan, and Norway.
Position Overview:
The BDC is seeking a counselor to provide college counseling to BJPL high school students. A range of support is needed for setting college goals, making college lists and matches, essays, financial aid, scholarship applications, and more. The College Counselor will work closely with students and parents throughout the college application process. This work takes place through one-on-one meetings with students, workshops, and college tours. The ultimate goal of the College Counselor is to ensure that each student graduates ready to thrive in college and their professional pursuits. We also have a strong and growing BJPL alumni network, and continue to find ways to support them and keep them involved.
Time Commitment:
Commitment of 15-20 hours is required weekly. Due to the changing/flexible needs of BDC, it is understood that additional hours may be required, and flexibility in arrival and departure time may occur. The College Counselor will sometimes work during evenings and weekends.
Responsibilities/Duties:
BJPL College Success
● Individualized student support
○ Provide counseling to high school students throughout the school year. This includes:
● Provided one-on-one counseling to up to 10 BJPL 12th grade students on a weekly basis in the fall and bi-weekly in the spring on college and/or
career trajectory
● Counseling to 9th-11th grade students in the spring semester. Counselor meets with 11th-grade students 1x per month and 9th-10th grade
students 1x during the spring semester.
● Summer check-ins with rising seniors and students preparing to matriculate to college.
● Build relationships with BJPL parents and guardians regarding students' college and/or career trajectories
● Co-coordinate volunteers assisting with college applications during the fall
● Workshops and college tours
○ Coordinate up to 7 college success workshops for 9th-12th grade students throughout the year on FAFSA, the college essay, financial aid award
letters, and jumpstarting college application processes for 11th grade students.
○ Coordinate college visits, including NYC-based universities and upstate universities which can include overnight trips.
● Professional Development
○ Attend any BJPL teacher training necessary as advised and approved by the Director of Education
● Outreach and Administrative
○ In assisting with BJPL students' college applications, coordinate with students' high school counselors and college admissions and financial aid
officers as needed
○ Build relationships with university and college admissions, assistance programs, and financial aid officers
○ Maintain partnerships with PASE, CACNY, Higher Education Services Corporation (HESC)
○ Meet with the Director of Education regularly, including weekly check-ins and a yearly meeting for college success strategic planning
○ Maintain student database tracking student progress, including: goals, applications, and acceptances
○ Complete program report in June of each year, detailing where students applied, were accepted, and are matriculating to
● Attend BJPL staff debriefs, student orientations, and students' final exhibition presentation
General
● Attend staff meetings and other meetings as deemed necessary
● Articulate BDC's mission and work to the public
● Other duties related to operations and administration as well as tasks assigned by the Director of Education and Executive Director
Skills and Abilities
The College Counselor should possess the following skills and abilities:
● Excellent communication skills
● Ability to communicate well with others and demonstrate strong interpersonal skills with students, parents, colleagues and community members
● Skilled in using data to drive improvements in the college counseling process
● Strong digital literacy, including Microsoft Office, Word, Excel, and the Google Suite
● Ability to work in a fast-paced environment
● Ability to multi-task and maintain attention to detail
● Strong organizational and time management skills
● Energetic and collaborative personality with a self-starter approach to work
Qualifications/requirements:
● Bachelor's degree or equivalent work experience in education
● Counseling experience; prior experience working with high school students and families especially in lower-income neighborhoods
● In-depth knowledge of schools and colleges, applications and deadlines, varying financial aid
● Ability to speak Spanish is highly valued
● Driver's license preferred
● COVID-19 vaccination is required
Salary:
Commensurate with experience.
Email your cover letter and resume to jobs@bronxdoc.org by Friday, September 17th.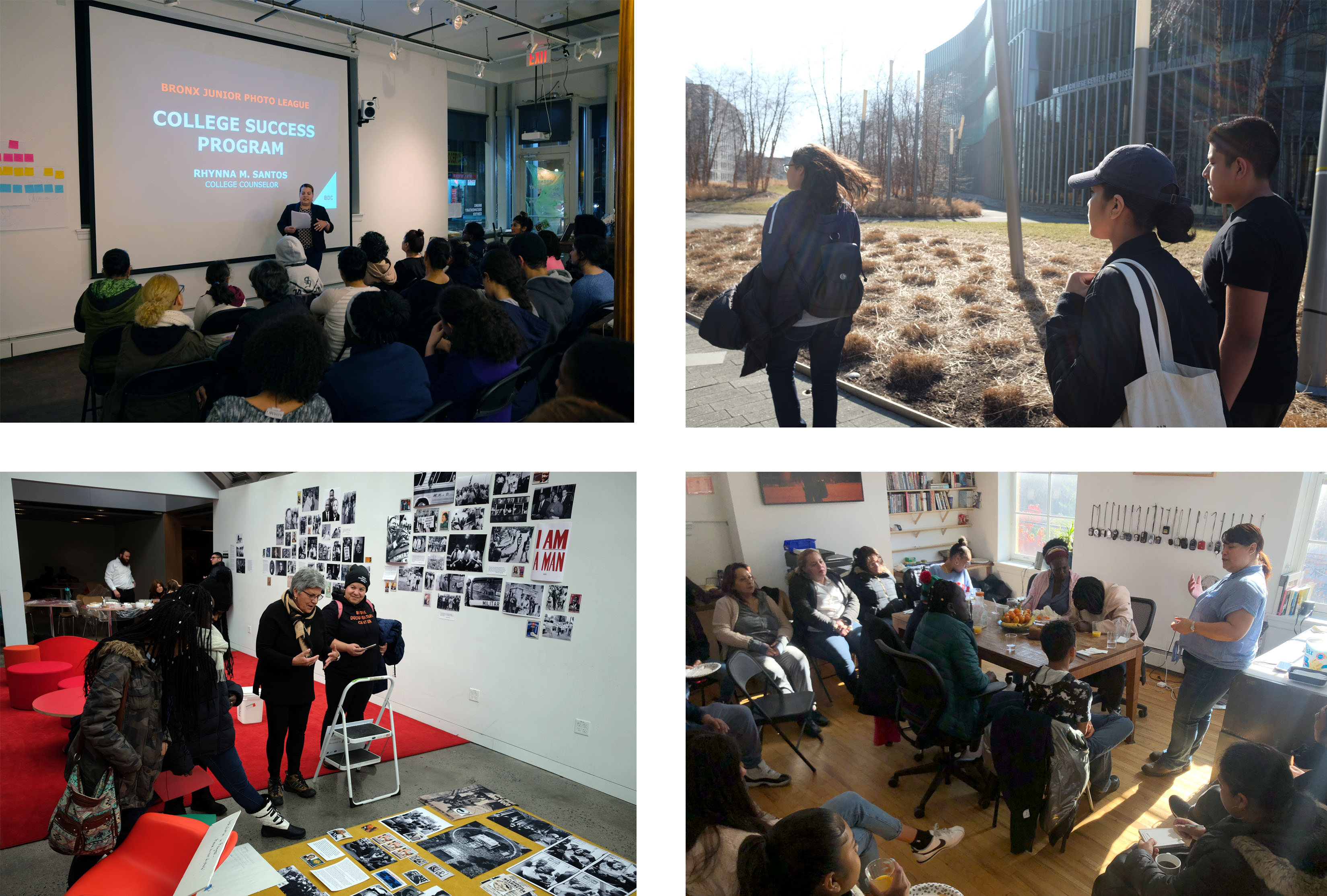 Bronx Documentary Center is an Equal Opportunity Employer. Personnel are chosen on the basis of ability without regard to race, religion, sex, national origin, disability, marital status or sexual orientation, in accordance with federal and state law. Bronx residents are encouraged to apply.