Bronx Junior Photo League
The Bronx Junior Photo League (BJPL) is a documentary photography and college success program serving middle through high school students.
Our free afterschool and summer documentary photography programs teach middle and high school Bronx students to use photography, writing, and research to explore social justice issues, preparing them for college and future careers. The program includes visits with internationally-renowned photographers, field trips to major cultural institutions and media outlets, and opportunities for life-changing international travel. Students and families participate in extensive college prep programming, including one-on-one counseling, financial aid workshops, and college tours.
To receive updates on BJPL application openings and deadlines and other educational opportunities at the BDC, sign up here.
If you are a current BJPL student, go here to find class information and program updates.
---
BJPL 2020-2021 After-School Program
APPLICATIONS ARE CLOSED

The Bronx Junior Photo League is a free year-long documentary photography and college success program for students in the 6th-12th grades. All experience levels are welcome and cameras and materials are provided by the BDC. Please note that during the fall semester, from October 13 - December 17, 2020, all BJPL programming will take place online via Zoom. Through the fall, we will assess the safety of returning to in-person learning at the BDC for our spring semester, beginning in January 2021.

Are you a returning BJPL student? **Fill out your application here.** Apply by Sunday, 9/20, to guarantee a spot in the 2020-21 program.
Have questions about the application or program? Scroll down for our BJPL FAQ or attend one of our upcoming virtual open houses. Zoom link will be posted to this page the day of the open house. (Download Zoom here.)
Monday, September 21, 4-7PM
Join the Zoom call by clicking here or enter the following: Meeting ID: 822 3093 4677 / Passcode: 427178
MIDDLE SCHOOL
October 14, 2020 - June 9, 2021
Wednesdays, 4:15-6:00PM
Open to all students who will be in the 6th through 8th grades in Fall 2020.
Apply online. Applications due September 27th.
HIGH SCHOOL
October 13, 2020 - June 10, 2021
Tuesdays + Thursdays, 4:30-6:30PM
Open to all students who will be in the 9th through 12th grades in Fall 2020.
Apply online. Applications due September 27th.
---
BJPL Summer Programs
COMING SOON: Projects from the BJPL's 2020 Virtual Summer Program.
The Bronx Junior Photo League summer program is a FREE six-week-long newspaper and zine and photobook making class for students entering the 6th through 12th grades. All experience levels are welcome for the photobook classes; prior photography OR journalism experience is required for the newspaper class. Classes will be supplemented by a weekly conversation or workshop with a creative working in the photography field, a meeting that all three classes will attend together.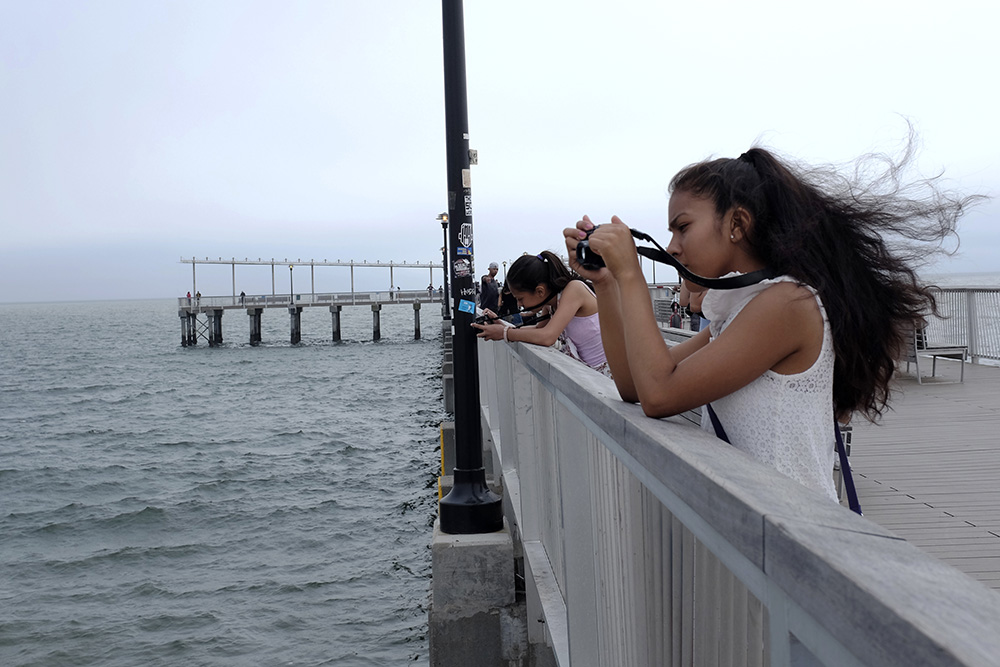 PHOTOBOOKS | HS + MS
In this photobook class, students will explore different ways of storytelling through phone photography and hands-on collaging and zine-making, ultimately designing their own unique photobook. In weekly creative chats, students will meet working photographers and editors to gain inspiration from their work and learn about possible media career pathways.
COMMUNITY NEWSPAPER | HS
In this class, students will meet twice a week to photograph and report for an online community newspaper for the South Bronx. Students will be given weekly assignments--as if they were a photographer for a newspaper--that they will complete during class time, as well as pitch and complete story ideas of their own. Students will collaborate on how to creatively report local stories, conduct remote interviews and portrait sessions, and publish their work to an online platform. This program will give students skills they need to succeed not only as photographers, but as professionals in any working environment.
---
Bronx Junior Photo League FAQ
What are the age requirements to be a student?
You must currently be a 6th - 12th grade student. Have you graduated high school and you're interested in photography? Email education@bronxdoc.org to inquire about our adult program, the Bronx Photo League.
Do I have to be enrolled in a specific school or live in the Bronx to be in the BJPL?
Nope! We welcome anyone from the five boroughs of New York City, although preference is given to Bronx-based applicants. The only requirement is that you're able to get to and from class every week. **Although we are remote in fall of 2020, we still require that applicants live in a place where they could commute to the BDC for if and when we return to in-person classes.**
Do I need to have photography experience?
No prior experience is required! Our classes are geared to challenge students of all skill levels, from beginner to advanced. If you have previous experience, make sure to note this on your application, as occasionally we will move students to a more advanced class.
Do I need to have a camera?
Nope! The BDC provides all necessary equipment for students during their time in the program. This includes analog cameras, digital cameras, and laptops for use onsite with the full Adobe Suite.
How much does the program cost?
The BJPL is completely FREE for all enrolled students! We provide equipment, cover the cost of any field trip transportation, and even have pre-class snacks.
When and where are classes held?
Classes are held after-school. High school students have class twice a week and middle school students meet once a week. We have college success workshops for high school students on weeknights and Saturdays, and host non-required open lab time for all high school students on Saturdays. All classes are held at the Bronx Documentary in our Annex building at 364 151st Street, Bronx, NY, 10451. During class time, we venture into our Melrose neighborhood to make photographs and record interviews. **During fall 2020, all classes will be held remotely via Zoom.**
If I was already in the Bronx Junior Photo League do I need to apply again?
Although returning BJPL students are given preference during the application process, you still need to fill out our special application for returning students. Apply here by Sunday, September 20th, to guarantee a spot in the 2020-21 program!
What will I learn in the BJPL?
You will learn how to tell a story about something you care about using documentary photography, a medium that is most often used to shed light on a greater social issue. Throughout this process, not only will you learn how to create meaningful images, but you will develop a deeper understanding of the world around you through a community-based lens, using research, interviews, and writing to explore the stories and issues that are important to you.
What are the hard skills you will learn? You'll learn how to use a DSLR camera, organize your work in Photo Mechanic and in the Google Suite, outreach to people and organizations, conduct an interview and record audio, research a topic using reputable news sources, write captions and project statements (and more), edit multimedia stories in Adobe Premiere, and ultimately create a complete documentary photography project.
How do I view work by BJPL students?
Check out students' final projects from the 2019-20 school year at www.bronxjuniorphotoleague.org. You can also check out past multimedia projects on our Vimeo channel.
Who teaches BJPL classes?
All of the BJPL teachers are practicing creatives, mainly photographers and filmmakers--that's why they're called Teaching Artists. All BJPL classes have 3 Teaching Artists and a maximum class size of 15 students, meaning that every student receives individualized support. Check out our teachers from our 2019-20 program here!
How long are students part of the BJPL?
Some BJPL students stay for one after-school program cycle (October - June) or a summer program, but the majority of BJPL students stay in the program for multiple years. Returning BJPL students continue to receive support in pursuing higher education, opportunities to travel and share their work around the world, and continue to develop documentary photography projects that they care about. We recently just had a student graduate from the BJPL who joined the program when she was in the 6th grade--she was a part of the program for 7 years. We call the BJPL a family for a reason: some BJPL alumni now assist with teaching the program, or are a part of the BDC through adult programs and fellowships, and many family members end up joining the BJPL or BDC programs.
How do I receive support in my college application process?
College success work is an integral part of the BJPL--any high school student that is a part of our program receives support in their pursuit of higher education and professional interests. We have a college counselor on staff that meets regularly with our students, we host workshops throughout the year that cover topics including FAFSA, essay writing, college lists, self-advocacy, and more, and visit colleges both in NYC and in upstate New York.
What colleges have BJPL students been accepted to?
We are very proud that over the past two years 100% of our graduating BJPL students have matriculated to college! BJPL alumni are attending college at Baruch College, City College, Cornell University, Fordham University, Hunter College, LaGuardia Community College, Lehman College, New York University Tisch School of the Arts, Pomona College, Queens College, SUNY New Paltz, SUNY Oswego, Syracuse University, The Cooper Union, The New School, Wheaton College, and more.
Have more questions? Email education@bronxdoc.org.
---
BJPL in the Media
---
Meet The BJPL
Students in our free after-school program gather each week to explore the issues and stories that connect their Bronx community to the wider world through photography and writing.
With the help of community members like you, the Bronx Junior Photo League can continue to grow. Support the BJPL today.



Past BDC students and alumni share their experiences at the BDC.