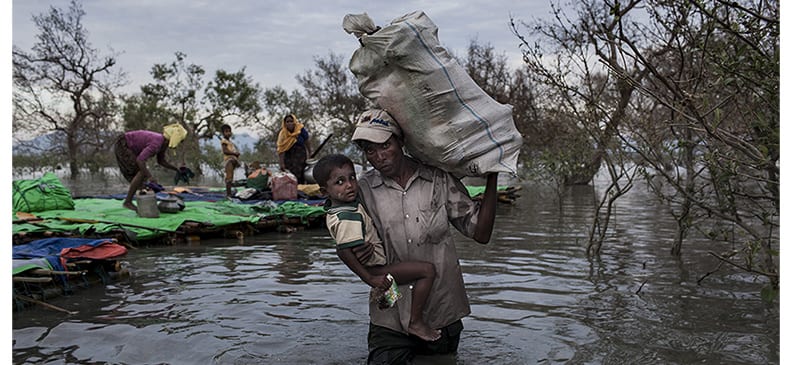 opening reception
May 30, 2019 | 6 - 9pm
ON VIEW
May 30 - Jun 9, 2019

FEATURING
Patrick Brown | Mikael Owunna | Fausto Podavini



Winner of the 2019 FotoEvidence Book Award with World Press Photo
Patrick Brown | "No Place on Earth"

No Place on Earth by Patrick Brown is the recipient of the 2019 FotoEvidence Book Award with World Press Photo. The Book Award is given each year to a photographer whose work demonstrates courage and commitment in documenting social injustice.
Since 2017, photographer Patrick Brown has documented the world's fastest-growing refugee crisis and one of the most rapid human outflows in recent history. Risking death at sea or on foot, more than 700,000 Rohingya fled the destruction of their homes and persecution in the northern Rakhine State of Myanmar for neighboring Bangladesh. Arriving at the makeshift camps, most refugees reported harrowingly consistent stories of murder and rape, all of which testify to a deliberate campaign of eradication.

No Place On Earth provides an intimate portrait of the survivors of the recent persecution and their bleak conditions in overcrowded refugee camps.
The publication of the book No Place on Earth was made possible with the support of: Pulitzer Center, Grodzins Fund, Fujifilm, World Press Photo, Fortify Rights.
The hardcover book No Place On Earth contains 98 color photographs with associated texts by Jason Motlagh an introduction by Matthew Smith director of Fortify Rights and the design by the renowned book designer Stuart Smith. Learn more about the work here.

FINALISTS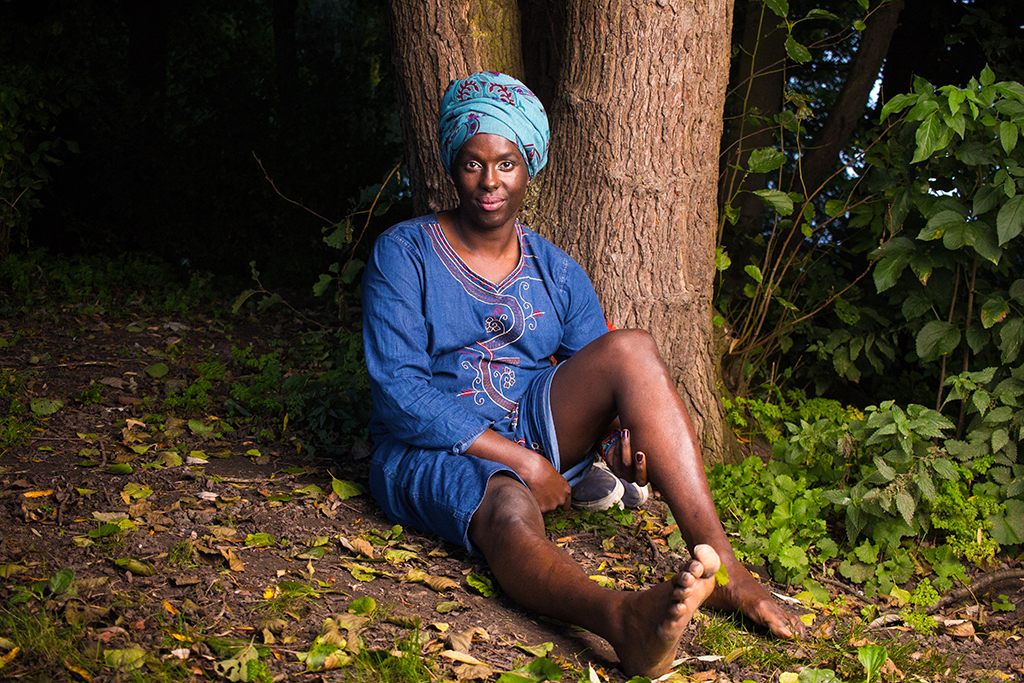 Finalist of the 2019 FotoEvidence Book Award with World Press Photo
Mikael Owunna | "Limitless Africans"
"I closed my eyes as the traditional priestess poured a basin of mysterious oils over me.
Stinging my body from head to toe, she repeated the motion several times to wash the "gay devil" out of me.

I was 18 and I was back in Nigeria for Christmas, where homosexuality is illegal, as it is in 33 other African countries. Gay and Nigerian, this was my third exorcism in just a few days' time.

Returning to the United States, my struggles continued. As a gay African immigrant, I existed in a strange middle ground of rejection from all corners. Rejected from white LGBT spaces and American society due to my blackness and immigrant status, and from African circles due to my sexuality. I was "unacceptable" everywhere I turned.

I found photography as my voice in this darkness and in 2013 I began Limitless Africans. Over the course of four years, I would travel to ten different countries across North America and Europe to document, for the first time, the LGBTQ African immigrant experience. Shooting and interviewing over 50 LGBTQ African immigrants, I found that everyone had experienced a similar sense of rejection on all sides.

This body of work is a collaborative response between me and my community, to re-define what it means to be an immigrant, African and queer in North America and Europe at this time. To confront, with our self-love and stories, the oppressive narratives that say we should not exist. We are Limitless."
Learn more about the work here.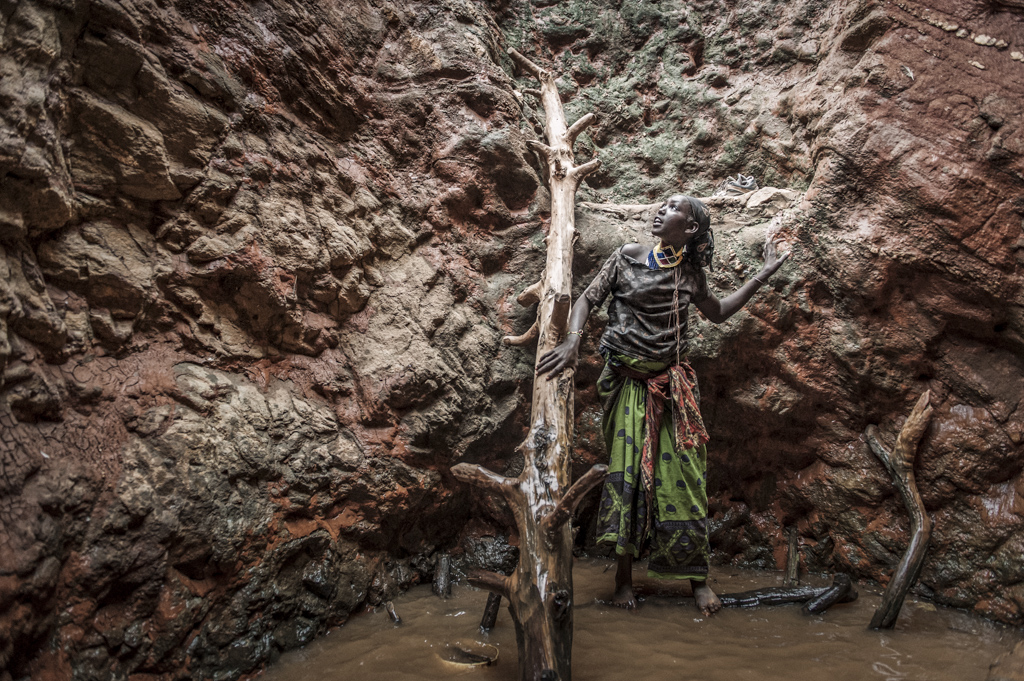 Finalist of the 2019 FotoEvidence Book Award with World Press Photo
Fausto Podavini | "OMO Change"
Omo Change documents the story of big investments from European and Chinese countries in the Omo Valley, in Ethiopia. The Omo Valley is internationally recognized as a rare dry and semi-dry region with extraordinary biodiversity. It has been included in the list of UNESCO heritage sites.

The area has approximately 500,000 inhabitants who work mainly in agriculture and sheep farming. An extremely fragile area, the Omo Valley is inhabited by different ethnic groups that were able to develop an agricultural system that works on a delicate and precious balance between the survival of humans and the use of natural resources and natural forces, like the floods of the Omo River.

The construction of a large dam, and foreign investments in new cotton farms and a sugar factory are dramatically changing both the natural environment and the local population's daily life.

The Omo Valley embodies a deep contradiction in many investments in so-called 'development': the valley is being turned into a pool of resources for the rest of the world but not for its own population.

Omo Change reflects on the social anthropological and economical complexity at the heart of this contradiction. Omo Change aims to be a meditation on how large-scale investments can put at risk a delicate balance between humans and their environment that has persisted for hundreds of years. How the influx of large amounts of cash changes human behavior and upsets the traditional balance of a fragile geography.
Learn more about the work here.


ARTIST TALK + BOOK PRESENTATION
No Place on Earth | Patrick Brown
June 8th, 7PM
FotoEvidence Press was founded in 2010 to continue the tradition of using photography to draw attention to human rights violations, injustice, oppression and assaults on human dignity wherever they may occur. Photographs have not only changed people's perception but, in some cases, altered the course of history.
For eight years, the FotoEvidence Book Award recognized one photographer whose work demonstrates courage and commitment in the pursuit of social justice and, in 2017, FotoEvidence partnered with World Press Photo. The book award was renamed the FotoEvidence Book Award with World Press Photo. The selected project is published by FotoEvidence as part of a series of photo books dedicated to the work of photographers, whose commitment and courage deliver painful truths, creating awareness and intolerance towards violations of human dignity.

MAIN PHOTO: A man carries his treasured possessions to shore in Bangladesh after his group of Rohingya refugees landed their raft in a mangrove patch on the Naf River. 12 November 2017 Patrick Brown ©2019 Panos/UNICEF
INTERIOR PHOTOS (Top-Bottom):
Olave – Queer Nonbinary Trans Femme Burundian (Pronouns : she or they) Shot in Rotterdam, the Netherlands 2017 "Dutch society is rather racist. The Dutch hold their culture as supreme, objective, "tolerant" and progressive. Anything (and anyone) that isn't Dutch is suspect, uncivilised and a liability. To be worthy of dignity, love and freedom, however, you have to basically be or ascribe to whiteness, heterocissexuality, capitalism, etc. Growing up in The Netherlands, I was in countless subtle and overt ways "pushed" to reject my "african"-ness, my femininity, everything that made me different. I failed at it. I gave up on it. I abandoned my efforts to become "worthy" of the Dutch. Since then I have been pursuing my Burundian-ness, my black-ness, my trans-ness, my queer-ness, my femme-ness, my crazy-ness, my different-ness. Doing so has brought me a lot of healing from the violence of the Dutch white supremacist, imperialist, ableist, speciest, transmysoginoir, capitalist patriarchy." Foto: Mikael Owunna
A Borana woman inside a well is getting water for her animals. In this extremely dry area, in the dry season, water is taken from 20 meter deep wells, where the aquifer is located. The appropriation of land by the Government for the construction of sugar cane plantations, is resizing the geographical borders of the tribes of the Omo Valley. The tribes are forced to migrate to other areas, and to change their customs and lifestyles. South Ethiopia, 2013 Foto: Fausto Podavini