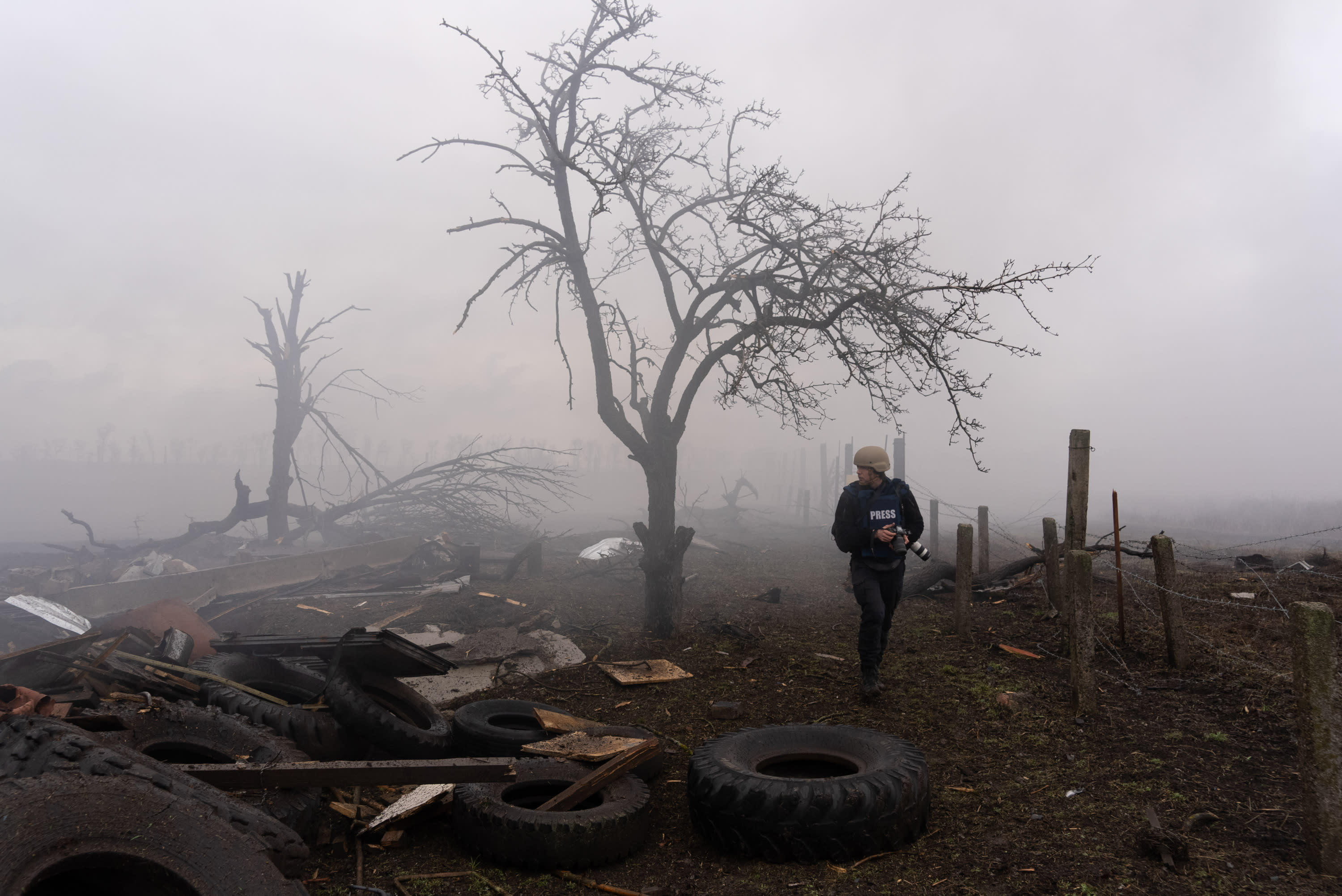 20 Days in Mariupol: Director Mstyslav Chernov in Conversation with Lydia Polgreen

Tuesday
Nov 7, 2023 | 6:30pm
No tickets are required to attend this free event.
Join the BDC for a screening and discussion of Mstyslav Chernov's searing documentary, 20 Days in Mariupol. An AP team of Ukrainian journalists trapped in the besieged city of Mariupol struggle to continue their work documenting the Russian invasion. As the only international reporters who remain in the city, they capture what later become defining images of the war: dying children, mass graves, the bombing of a maternity hospital and more.
20 Days in Mariupol is Mstyslav Chernov's first feature film, after he spent nearly a decade covering international conflicts, including the Russia-Ukraine war, for the Associated Press, The film draws on Chernov's daily news dispatches and personal footage of his country at war. It offers a vivid, harrowing account of civilians caught in the siege, as well as a window into what it's like to report from a conflict zone and the impact of such journalism around the globe.
The screening of 20 Days in Mariupol will be followed by a conversation between the director and Lydia Polgreen, a journalist and New York Times opinion columnist.
This event is free but donations are always greatly appreciated.

Mstyslav Chernov (@mstyslav.chernov) is a Pulitzer Prize-winning video journalist at the Associated Press and president of the Ukrainian Association of Professional Photographers. Since joining AP in 2014, he has covered major conflicts, social issues and environmental crises across Europe, Asia and the Middle East. Most recently, Chernov documented Russia's invasion of Ukraine. Chernov's courageous reporting in Mariupol earned him the 2023 Pulitzer Prize for Public Service. He was named 2016 Camera Operator of the Year and 2015 Young Talent of the Year by the UK's Royal Television Society. He is from Eastern Ukraine and is based in Germany.
Lydia Polgreen (@lpolgreen) became an Opinion columnist for The New York Times in 2022. She is also a host on the weekly Opinion podcast, "Matter of Opinion." Polgreen previously served as managing director of Gimlet, a podcast studio at Spotify, and as editor-in-chief of HuffPost, leading a team of hundreds of journalists publishing 16 editions across the globe in nine languages. She joined HuffPost in January 2017 after a 15-year career at The New York Times that included roles as associate masthead editor, deputy international editor, South Africa bureau chief, correspondent for the New Delhi bureau and chief of the West Africa bureau. Polgreen was a 2006 recipient of the George Polk Award for foreign reporting, in recognition of her travels deep into the war-torn western regions of Sudan to report on the carnage in Darfur. She received the 2008 Livingston Award for international reporting for her series "The Spoils," an account of how the scramble for Africa's mineral wealth has brought misery and exploitation. In 2011 she was awarded the Columbia University Medal for Excellence.


📍: BDC Annex, 364 E. 151st St, Bronx, NY 10455
IMAGE: Photographer Evgeniy Maloletka picks his way through the aftermath of a Russian attack in Mariupol, Ukraine, Feb. 24, 2022. Still from FRONTLINE PBS and AP's feature film "20 Days in Mariupol." CREDIT: (AP Photo/Mstyslav Chernov)