 4th Annual Latin American Foto Festival

Thursday
Jul 15, 2021 | 6pm
The Bronx Documentary Center's (BDC) 4th Annual Latin American Foto Festival features large-scale photographs throughout the Melrose community by award-winning photographers. Works by artists from Colombia, Argentina, Chile, Mexico, Venezuela, Peru and El Salvador are displayed from a variety of long-term projects focusing on social issues.
El 4º Festival Anual de Fotografía Latinoamericana del Bronx Documentary Center (BDC) presenta fotografías a gran escala realizadas por fotógrafos galardonados en toda la comunidad de Melrose. Se exponen obras de artistas de Colombia, Argentina, Chile, México, Venezuela, Perú y El Salvador de una variedad de proyectos a largo plazo centrados en temas sociales.
Featuring:
Andrea Hernández Briceño | Venezuela
Carlos Saavedra | Colombia
Cristóbal Olivares | Chile
Florence Goupil | Perú
Luis Antonio Rojas | México
Pablo E. Piovano | Argentina + Chile
Rodrigo Abd | Venezuela
Victor Peña | El Salvador
Victoria Razo | México
This is an indoor and outdoor exhibition, please view the map below.
Indoor galleries are located:
BDC, 614 Courtlandt Ave, Bronx, NY 10451
BDC Annex, 364 E. 151st Street Bronx, NY 10455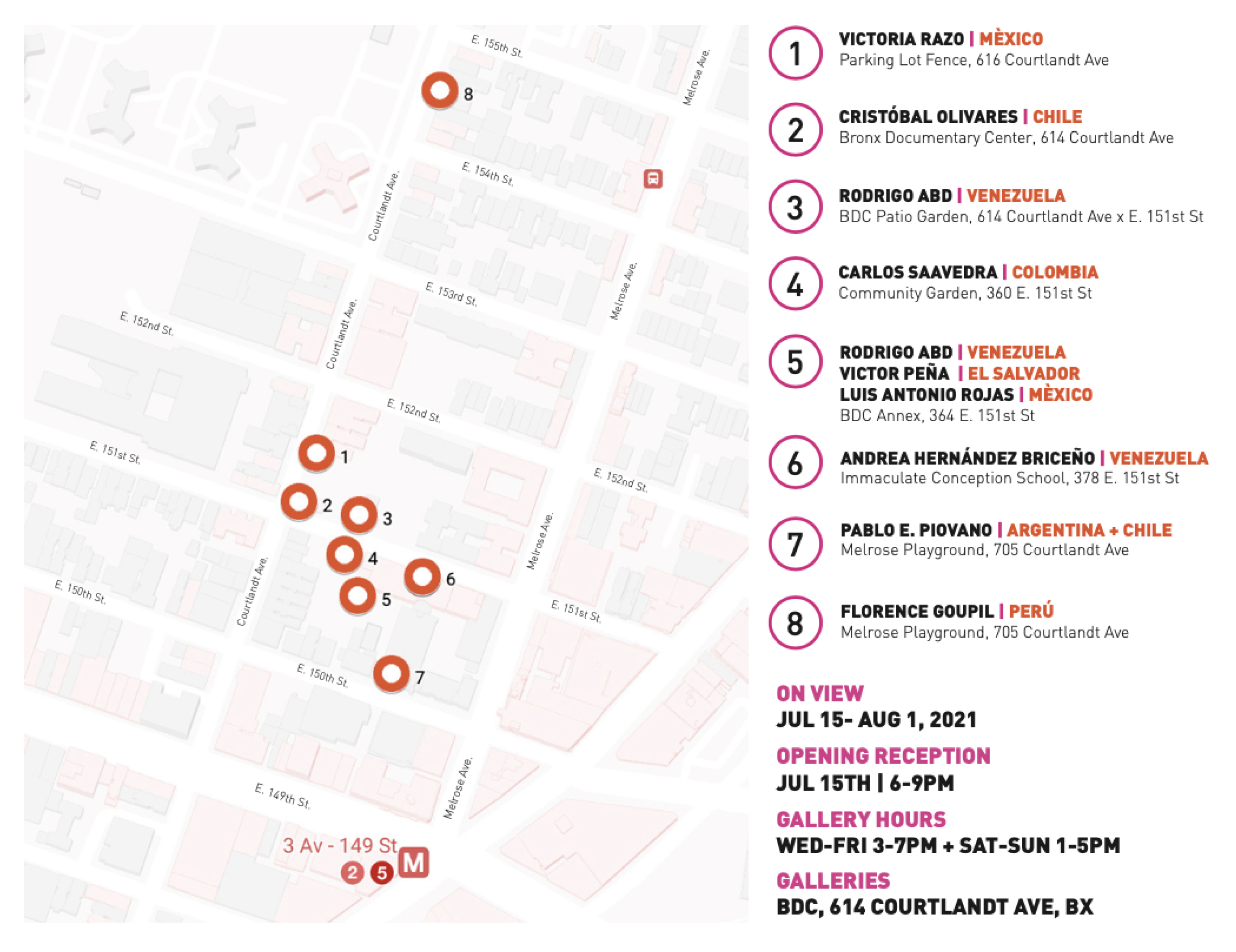 The Latin American Foto Festival is curated by Michael Kamber and Cynthia Rivera.
Spanish translations: Maria De La Paz Galindo
The 4th Annual Latin American Foto Festival is made possible by public funds from the New York City Department of Cultural Affairs in partnership with the City Council and by City Council member Rafael Salamanca, the New York State Council on the Arts with the support of Governor Andrew Cuomo and State Legislature, the National Endowment for the Arts, and Con Edison.