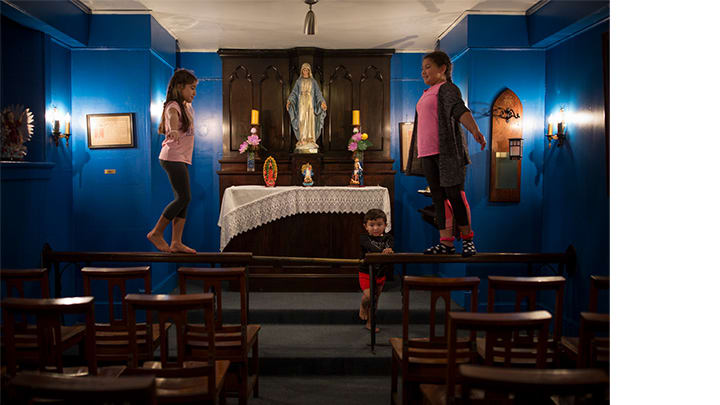 BDC Conversations: Immigration Under Trump

Saturday
Mar 21, 2020 | 6pm
—IN RESPONSE TO COVID-19 THIS EVENT IS CANCELED—

Join exhibiting Trump Revolution: Immigration photographers Kholood Eid, Cinthya Santos-Briones, and Griselda San Martin as they share their insight on documenting immigration under the Trump administration. Moderated by Caitlin Dickerson, a national immigration reporter for The New York Times.


About the Exhibition
Through photos, words and multimedia, the BDC exhibition, Trump Revolution: Immigration, documents the current president's overturning of decades of American immigration policy and law, and its profound effects on American society and the lives of millions of immigrants. The exhibition is curated by the Bronx Documentary Center's Exhibition Coordinator Cynthia Rivera, and Executive Director Michael Kamber. On view until March 29th, 2020.
BIOS
CAITLIN DICKERSON is a national immigration reporter based in New York. Since joining The Times in 2016, she has broken news about changes in deportation and detention policy, and profiled the lives of immigrants, including those without legal status. She frequently appears as a guest on "The Daily" podcast, and has filled in as its host. For The New York Times Magazine, she wrote about the real-life impact of fake news on a small town in Idaho that was turned upside down by anti-refugee rumors that were elevated nationally by Facebook accounts linked to the Russian government and people who went on to hold key roles in the Trump administration. Before joining The Times, she was an investigative reporter for N.P.R., where her work was honored with a George Foster Peabody Award and an Edward R. Murrow Award. She was also a finalist for the Livingston Award. As a result of her investigation into secret mustard gas experiments conducted on American troops by the United States military, a law was passed in 2017 to provide test subjects compensation for their injuries
KHOLOOD EID is a documentary photographer working with stills, audio, video, writing, and editing. She is also an educator, having taught photography to a group of preteens at an after-school program through the Bronx Documentary Center for several years as well as graduate students at New York University and Columbia University. Prior to living in New York City, she was a coordinator at Pictures of the Year International. Eid is interested in exploring the nuances of individual and group identity, the concept of "Home," the ever-shifting social and political makeup of the Middle East, gender-based issues, the spectrum of mental illness and the aftermath of trauma. Her clients include The New York Times, The Wall Street Journal, Bloomberg, The New Yorker, CNN, ACLU, NPR and others. In 2018, she was named one of PDN'S 30 New and Emerging Photographers To Watch.

CINTHYA SANTOS-BRIONES is a Mexican photographer, anthropologist, ethnohistorian and community organizer based in New York. Her multimedia work uses a collaborative approach to tell stories about homeland, immigration, memory, (indigenous) identity, and self-representation through an interdisciplinary process that uses photography, ethnography, (archives) history, drawings and audiovisual and written narratives. For ten years Cinthya worked as a researcher at the National Institute of Anthropology and History focused on issues on indigenous migration, codex, textiles and traditional medicine. She is the recipient of fellowships and grants from the Magnum Foundation (2016/2018), En Foco (2017), National Geographic Research and Exploration (2018), We Woman (2019) and the National Fund for Culture and the Arts of México (2009/2011). Her work has been published in The New York Times, PDN, La Jornada, California Sunday Magazine, Vogue, Open Society Foundations, Buzzfeed, The Intercept and The Nation Magazine, among others. Cinthya is co-author of the book The Indigenous Worldview and its Representations in Textiles of the Nahua community of Santa Ana Tzacuala, Hidalgo; and the documentary, The Huichapan Codex. Cinthya has worked in pro-immigrant organizations in New York as a community organizer and is currently Adjunct Faculty at the Craig Newmark Graduate School of Journalism at CUNY.

GRISELDA SAN MARTIN is a Spanish documentary photographer currently based in New York City. She is a graduate of the Documentary Photography and Photojournalism program at the International Center of Photography (ICP) and holds a Masters in Journalism from the University of Colorado Boulder. San Martin has documented the U.S.-Mexico border, focusing on the issues of immigration, deportation, inequality and human rights abuses through an optic of identity and belonging. Her photography and video projects have been exhibited internationally and featured in The Washington Post, The New York Times, The New Republic, and California Sunday Magazine as well as other publications.

PHOTO: Dulce Carvajal (on the left) balancing on the rail of the Chapel inside Holyrood Church with her sister Daniela (on the right), while their brother David sobs for not being able to get on as a trapezist with them.
Dulce Carvajal (a la izquierda) balanceándose en la barandilla de la Capilla dentro de la Iglesia Holyrood con su hermana Daniela (a la derecha), mientras su hermano David llora por no ser capaz de ser un trapeciasta como ellas. © Cinthya Santos-Briones