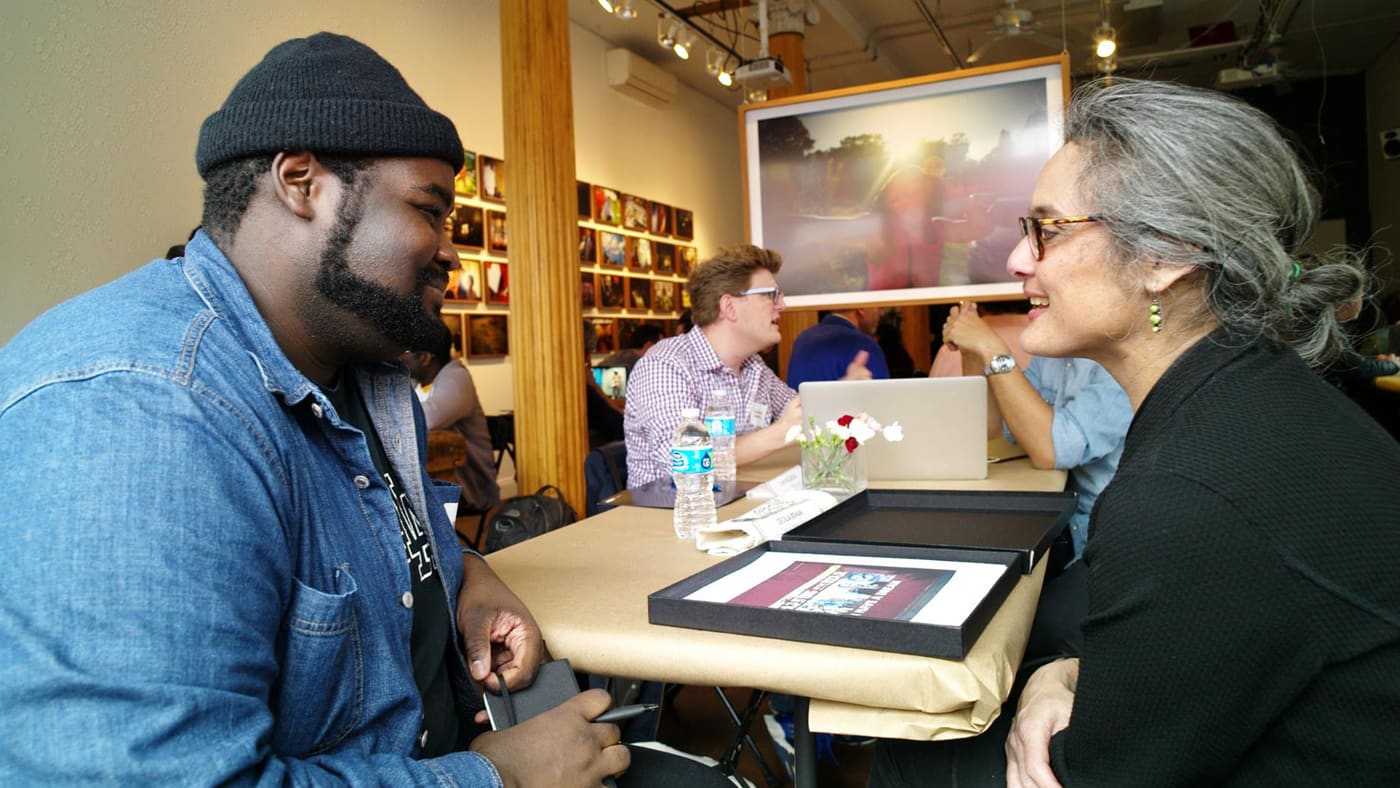 Saturday
May 5, 2018 | 10am
Get your work seen during five one-on-one sessions with the industry's top photo editors. Register today!
Sign up to meet and get critiqued by the top photo editors and photographers from The New York Times, TIME Magazine, National Geographic, UNICEF, Reuters and more. You will have the chance to meet one-on-one for twenty minutes with five of the following reviewers:
KAINAZ AMARIA Visuals Editor, Vox
SANDY CIRIC Director of Photography, Getty Images
JAMES ESTRIN Co-Editor, New York Times Lens Blog
NOELLE FLORES THEARD Programs Associate, Magnum Foundation
GENEVIEVE FUSSELL Senior Photo Editor, The New Yorker
CASSANDRA JOHNSON Director, Steven Kasher Gallery
MARGARET KEADY Photo Editor, The Wall Street Journal
NICK KIRKPATRICK International Photo Editor, The Washington Post
AMELIA LANG Associate Publisher at Aperture Foundation
BRENT LEWIS Senior Photo Editor, ESPN
GINA MARTIN Photographer Representative, National Geographic
PAUL MOAKLEY Deputy Director of Photography and Visual Enterprise, TIME Magazine
MARIE MONTELEONE Assignment Photo Editor, Bloomberg North America
CHRISTINE NESBITT Senior Photography Editor, United Nations Children's Fund
ELIZABETH RENSTROM Photo Editor, Vice
EUGENE RICHARDS Documentary Photographer
LAURA ROUMANOS Executive Producer and Co-Founder, United Photo Industries
JAMES WELLFORD Senior Photo Editor, National Geographic
DAMON WINTER Staff Photographer, The New York Times
YUKIKO YAMAGATA Acting Interim Director, Open Society Foundations Documentary Photography Project
Space is limited and advance registration is required.
Prior to the review, the BDC will ask you to submit your top 10 choices. We will do our best to match you to your selections.
Throughout the day, you can relax and enjoy yourselves in the BDC's intimate backyard patio and Tim Hetherington Photo Book Library. The BDC will also provide lunch by Xochimilco, the Bronx's finest Mexican restaurant.
Email info(at)bronxdoc.org if you have any questions.
FUJIFILM BRONX SCHOLARSHIP
There are six scholarship spots available for Bronx-based photographers, generously made possible by FUJIFILM. To apply for the scholarship, please send the following to info@bronxdoc.org:
A short statement discussing your work and how the portfolio review would be beneficial to you.
10 images from any body of work with captions.
The images need to be lo-res .jpg files zipped in a folder with your name. The zipped folder should be attached to the email with your statement or sent via WeTransfer.
DEADLINE EXTENDED TO THURSDAY, APRIL 26TH
Submissions received after this time will not be reviewed. Please note these submissions will not be judged by BDC staff or volunteers; professional photo editors will be making the final decision.
*CANCELLATION POLICY: No refunds if canceling within 7 days of the workshop. Cancellations before the 7 day period will receive a refund of the registration price, not including Eventbrite's service fee.
**Please note that all reviewers are working professionals. In the event of last minute assignments or schedule changes, the BDC reserves the right to substitute reviewers.
© Mike Kamber/BDC