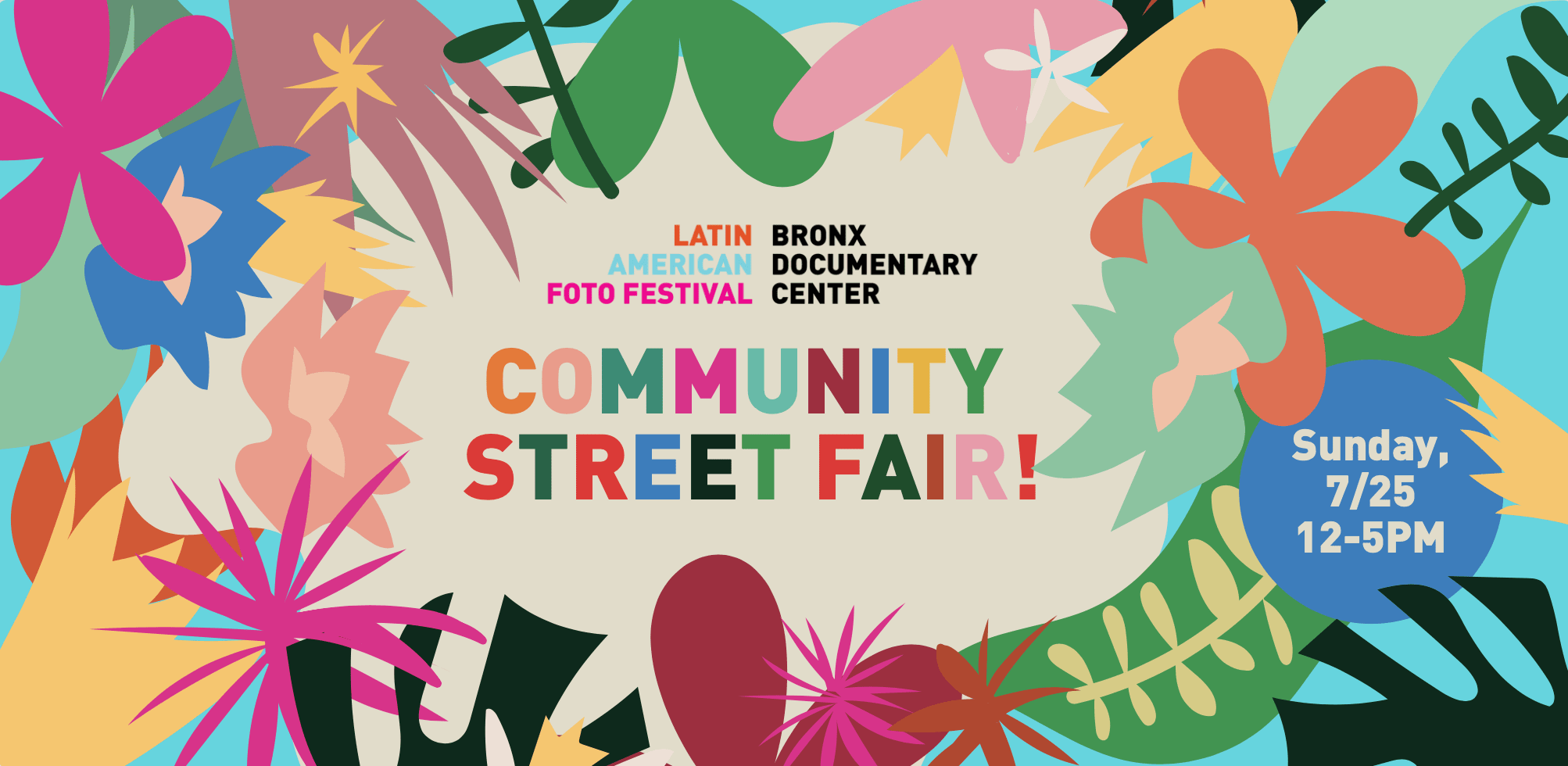 Sunday
Jul 25, 2021 | 12pm

Join the Bronx Documentary Center (BDC) as we celebrate our 4th Annual Latin American Foto Festival! Our annual community street fair returns on Sunday, July 25th, from 12-5PM, at 151st St and Courtlandt Ave.
¡Únase al Bronx Documentary Center (BDC) mientras celebramos nuestro 4to Festival Anual de Fotografía Latinoamericana! Nuestra feria comunitaria anual regresa el domingo 25 de julio, de 12 a 5 p.m., en 151st St y Courtlandt Ave.
Join us for a day of food, music, and fun! The event will include free portraits, exhibition tours in both English and Spanish, a Mexican folk dance performance by the Mazarte Dance Company, family-friendly activities and games, face painting, arts and crafts, sports, and a misting station.
Lincoln Hospital, BronxWorks, Link Homecare, and Blueline Homecare will be there with information serving the community.
Schedule:
12PM: Festivities begin!
2:30-2:50PM: Mazarte Dance Company performance
4PM: Water Balloon Fight
Free and open to all!

Learn more about our Partners:
Mazarte Dance Company is an artistic organization that exposes the history and the art of the indigenous artisans of our Mexican culture through dance. The goal is to promote Mexican culture, heritage and bring history to life. We offer educational programs to NYC communities. We believe that our approach to culture and the arts should be holistic and each program reconnects and supports the indigenous communities we leave in Mexico. For more information visit mazarte.org
Lincoln Hospital is a full-service medical center and teaching hospital affiliated with Weill Cornell Medical College, in the Mott Haven neighborhood of the Bronx, New York City, New York. For more information visit nychealthandhospitals.org/lincoln

BronxWorks helps individuals and families improve their economic and social well-being. From toddlers to seniors, we feed, shelter, teach, and support our neighbors to build a stronger Bronx community.


Link Homecare connecting seniors with caregivers throughout NYC, Long Island, and Upstate NY.
Blueline Homecare servicing geriatric and pediatric patients in the five boroughs of New York City.
This event is held in conjunction with our 4th Annual Latin American Foto Festival, on view July 15-August 1st, 2021. Featuring works by artists from Colombia, Argentina, Chile, Mexico, Venezuela, Peru and El Salvador.