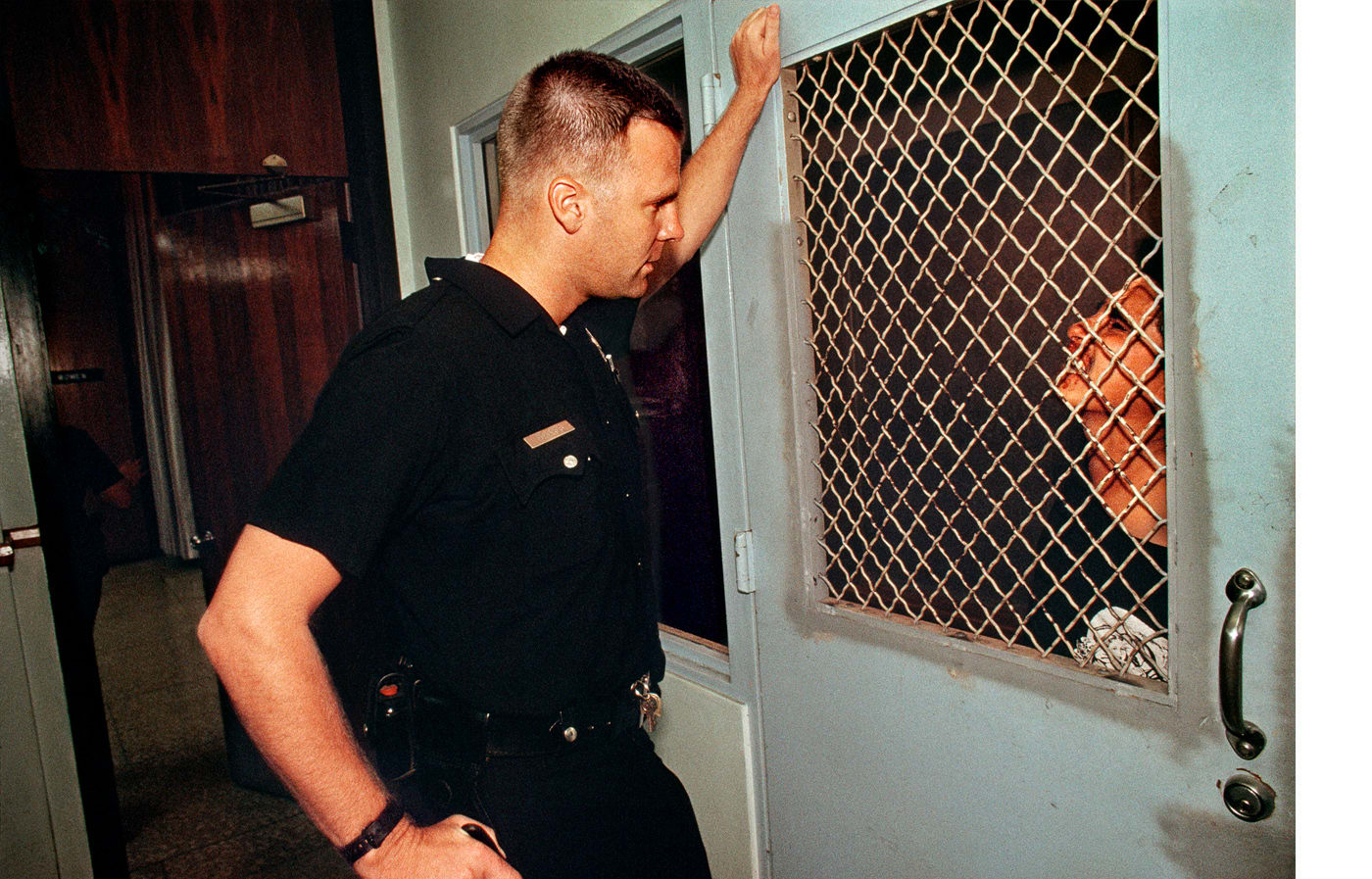 Joseph Rodríguez, Rubén Martínez, Lauren Lee White

Friday
Feb 12, 2021 | 6pm

Please note that our galleries are closed until further notice.
All of our public programming will be held virtually.
Join the BDC for a virtual conversation between exhibiting photographer Joseph Rodríguez and writer Rubén Martínez, as they discuss Rodríguez's powerful new book LAPD 1994. Moderated by journalist Lauren Lee White. The event will be live-streamed via Zoom.
"In 1994, The New York Times Magazine assigned me to ride along with cops from the Los Angeles Police Department, photographing them at work. This was just two years after the protests that erupted when four officers were acquitted on charges of beating Rodney King, and LAPD needed a public image makeover.
So they gave me and the Times unprecedented access to the department, hoping we'd give readers a story about LAPD's new "kinder, gentler cop."
I was embedded with officers from several divisions and branches, including some of the more notorious ones: the anti-gang unit "CRASH", the Rampart Division, and the homicide unit. For several weeks, I rode day and night in the back of police cars, taking photos.
Most of those photographs have never seen the light of day, until now. Given the potential revolution around policing in the US taking place right now, the time has come to share them with a wide audience. The photos are a reminder that the same problems we are reckoning with today—systemic racism, violence against community members, corruption—have been around for decades.
I was no stranger to this type of assignment. At that time I had already published two books, Spanish Harlem and East Side Stories, which depicted life in impoverished neighborhoods. Covering LAPD gave me a chance to show how police operated in marginalized communities, and how those communities were affected by individual cops and the department as a whole."—Joseph Rodríguez
This event coincides with Rodríguez's exhibition by the Bronx Documentary Center, February 5–March 26, 2021. The BDC's online exhibition with images and text from Rodríguez's book gives us an up-close and personal look at the cops, victims, and violent perpetrators in working-class communities of Pico Union, Rampart, and South Central Los Angeles. On February 5, 2021, the exhibition will be available to view at lapd1994bdc.format.com


PANELIST
RUBEN MARTÍNEZ is an award-winning journalist, author, and performer. He is the author of four books: Flesh Life: Sex in Mexico City (with Joseph Rodriguez, Powerhouse Books, 2006), The New Americans (The New Press, 2004), Crossing Over: A Mexican Family on the Migrant Trail (Picador, 2002), Eastside Stories (with Joseph Rodriguez, Powerhouse Books, 1998), and The Other Side: Notes from the New L.A., Mexico City and Beyond (Vintage, 1993). His essays, opinions and reportage have appeared widely in such publications as The New York Times, Washington Post, Los Angeles Times, Salon, Village Voice, The Nation, Spin, Sojourners, and Mother Jones. His numerous awards include a Lannan Literary Fellowship. He is Professor, Fletcher Jones Chair in Literature & Writing at Loyola Marymount University, and is currently at work on a book about race, class, and representation in the American Southwest.
PANELIST
JOSEPH RODRÍGUEZ was born and raised in Brooklyn, New York. He began studying photography at the School of Visual Arts and went on to receive an Associate of Applied Science degree at New York City Technical College. He worked in the graphic arts industry before deciding to pursue photography further. In 1985 he graduated with a Photojournalism and Documentary diploma from the International Center of Photography in New York. He went on to work for Black Star photo agency, and print and online news organizations like Esquire, The Guardian, Mother Jones, National Geographic, New America Media, The New York Times Magazine, Newsweek, Stern, and The Washington Post. He has received awards and grants from the New York Foundation for the Arts, Artists' Fellowship, USC Annenberg Institute for Justice and Journalism, the Open Society Institute Justice Media Fellowship and Katrina Media Fellowship, National Endowment for the Arts, the Rockefeller Foundation, Mother Jones International Fund for Documentary Photography, and the Alicia Patterson Fellowship Fund for Investigative Journalism. He has been awarded Pictures of the Year by the National Press Photographers Association and the University of Missouri, in 1990, 1992, 1996 and 2002. He is the author of Spanish Harlem, part of the "American Scene" series, published by the National Museum of American Art/ D.A.P., as well as East Side Stories: Gang Life in East Los Angeles, Juvenile, Flesh Life Sex in Mexico City, and Still Here: Stories After Katrina, published by powerHouse Books. Recent exhibitions include Galerie Bene Taschen, Cologne, Germany; Irene Carlson Gallery of Photography, University of La Verne, California; Third Floor Gallery, Cardiff, Wales, UK Institute for Public Knowledge, New York, NY; Moving Walls, Open Society Institute, New York, NY; and Cultural Memory Matters, 601 Art Space, New York, NY.
MODERATOR

LAUREN LEE WHITE is a reporter covering criminal justice, public policy, and issues that affect women and families. Her work has appeared in The Guardian, VICE, PRI, The Christian Science Monitor and elsewhere. In 2018, she was awarded a grant from the Fund for Investigative Journalism to report on sexual misconduct at the Los Angeles County women's jail. Lauren was a John Jay College/H.F. Guggenheim Reporting Fellow at the Center on Media, Crime and Justice in 2016 and a Fellow at the USC Center on Public Diplomacy in 2015. Lauren teaches at the USC Annenberg School of Journalism. Previously, she worked as a documentary filmmaker in New York City, where she was an instructor with the Tribeca Film Institute, the JFK Center for Performing Arts, Downtown Community TV Center, and Artistic Noise.
IMAGE: A man arrested for threatening a family member with a knife is questioned in a Rampart Station holding cell by Officer Jim Edwards. © Joseph Rodríguez