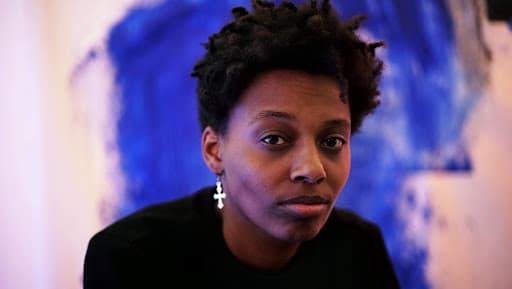 Le'Andra LeSeur on Identity and the media

Friday
Jun 24, 2022 | 7:30pm

📍: BDC, 614 Courtlandt Ave, Bronx, NY 10451
Join the BDC for a conversation with multidisciplinary artist Le'Andra LeSeur. Through a range of media including video, installation, photography, painting, and performance, LeSeur's body of work, a celebration of Blackness, queerness, and femininity, seeks to dismantle systems of power and achieve transcendence and liberation through perseverance.
Through the insertion of her body and voice into her work, she provides her audience with an opportunity to contemplate themes such as identity, family, Black grief and joy, the experience of invisibility, and what it means to take up space as a queer Black woman—a rejection of the stereotypes which attempt to push these identities to the margins.
LeSeur has received several notable awards including the Leslie-Lohman Museum Artists Fellowship (2019) and the Juried Grand Prize at Artprize 10 (2018). LeSeur appeared in conversation with Marilyn Minter at the Brooklyn Museum, presented by the Tory Burch Foundation and has lectured at RISD and SCAD Atlanta, among others. Her work has been shown in solo and group exhibitions at The Shed, New York, NY; Marlborough, New York, NY; Atlanta Contemporary, Atlanta, GA; A.I.R. Gallery, Brooklyn, NY; Assembly Room, New York, NY; Microscope Gallery, Brooklyn, NY; Arnika Dawkins, Atlanta, GA; and others.
HEADER IMAGE: © Le'Andra LeSeurAn Ode to Trayvon, 2017, Documented Performance and Single Channel Video