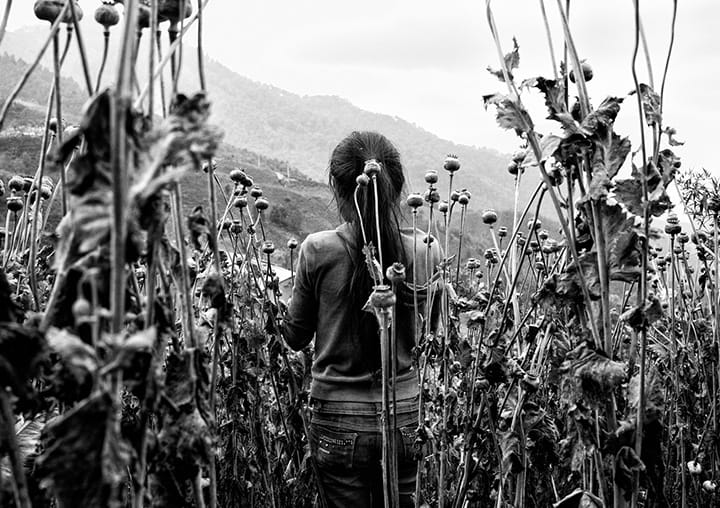 3rd Annual Latin American Foto Festival

ON VIEW
Jul 23 - Aug 9, 2020
Visit laffbdc.org

In response to concerns around COVID-19 the Bronx Documentary Center has
canceled all gallery hours until further notice. This exhibition will open as an online gallery.
FEATURING / PRESENTANDO

Luján Agusti / Mexico | Eric Allende / Chile | COVID LATAM / Latin America | Luisa Dörr / Brazil | Adriana Loureiro Fernández / Venezuela
Leo Goldstein USA, Spanish Harlem | Jorge Pachoaga / Colombia | Adriana Parrilla / Puerto Rico | César Rodriguez / Mexico

The Bronx Documentary Center's (BDC) 3rd Annual Latin American Foto Festival will feature large-scale photographs throughout the Melrose community by award-winning photographers from the Caribbean and Latin America. Works by artists from Colombia, Brazil, Puerto Rico, Mexico, Venezuela, Chile, and Argentina will be displayed with photos from a variety of long-term projects focusing on social issues. As part of the Festival, the BDC will hold virtual workshops, tours, and panel discussions for our online and Bronx community, home to thousands of Latinx immigrants.
Two of the photographers in this year's Festival celebrate the role and strength of Latin American women. Luisa Dörr will show her images of cowgirls and rodeo life in Brazil, while Adriana Parrilla's work explores the cultural roots of Afro-identity in Puerto Rico.
Eric Allende, co-founder of Migrar Photo, a major photographic platform in Chile, photographs the recent uprising there. These images will be shown across the street from Luján Agusti's documentation of Payasos de Coatepec, a project created in Veracruz, Mexico on religion, colonialism and culture.
An exhibition of Venezualan photography by Adriana Loureiro Fernández reflecting on the violence, poverty, and political upheaval there, will be projected nightly on the BDC's back patio and Jorge Panchoaga's project on Colombia's Nasa indigenous communities will be projected on the corner of 151st Street and Courtlandt Ave.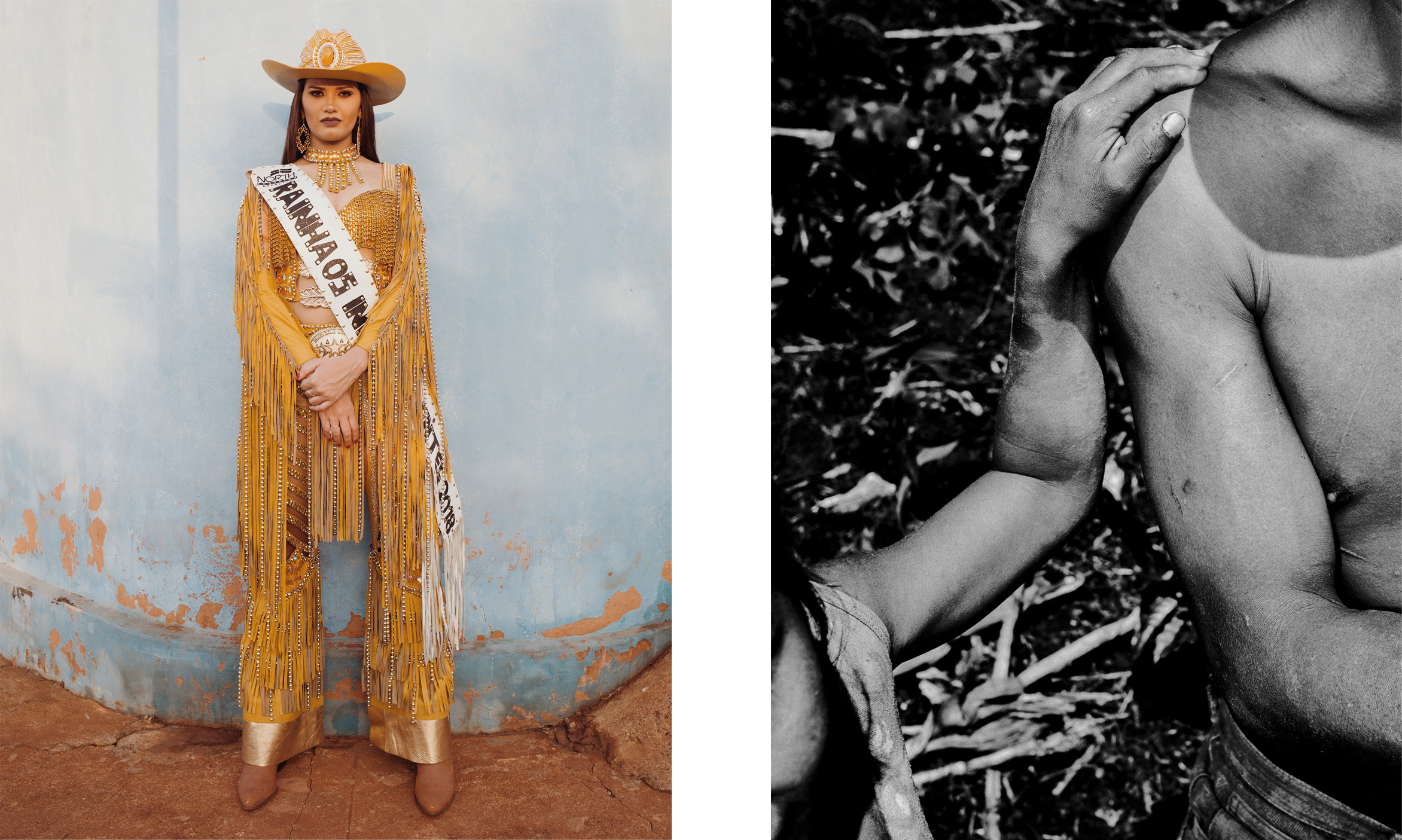 The 18-member COVID LATAM collective will show their work on the pervasive effects of COVID-19 in Latin America. The legendary Leo Goldstein's photographs of Spanish Harlem from the 1950's will be exhibited on the BDC's fence; across the street, César Rodríguez's
black and white photos created in the mountains of Guerrero, Mexico will be displayed at the 151st Street community garden.
The Latin American Foto Festival's outdoor display takes place in the BDC's Melrose neighborhood, one of New York's fastest-growing and most dynamic communities. With installations along city sidewalks, school exteriors, and in community gardens, the Festival will be seen by thousands of residents each day. It is one of New York's most exciting and important cultural displays of the year.
Due to the COVID-19 pandemic, our indoor galleries will remain closed: this photo festival will be made up of outdoor banners and projections as well as the virtual component viewable at www.laffbdc.org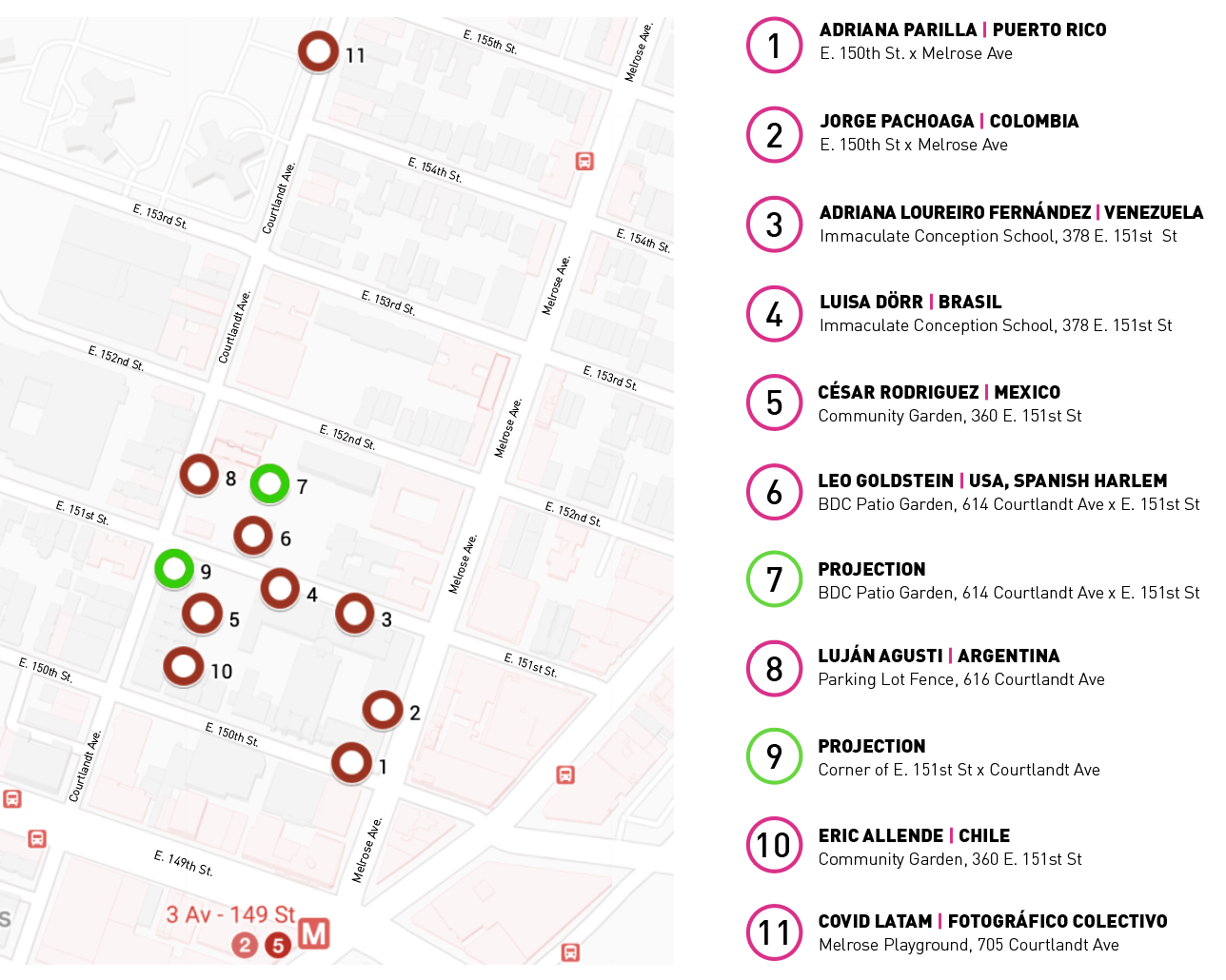 3rd Annual Latin American Foto Festival in the Media
Third Edition of the Latin American Photography Festival | ViceVersa | JUL 20, 2020
Stunning Latin American Photography-in pictures | The Guardian | JUL 22, 2020
The Bronx Documentary Center Unveils Its Third Annual Latin American Foto Festival | Remezcla | JUL 23, 2020
Latin American Foto Festival: Culture and coronavirus | BBC News | JUL 23, 2020
Powerful Latin American Photography Appears in the Bronx | HYPEBEAST | JUL 24, 2020
A Celebration of Latin American Photography in the South Bronx | Hyperallergic | JUL 24, 2020
Bronx Documentary Center Launches Annual Latin American Foto Festival | People | JUL 24, 2020
Latin American Foto Festival: The image is out of place on the streets and on the Internet | Al Dia | JUL 27, 2020
These stunning images show life during the pandemic. The sprawling exhibit is in the streets. | NBC News | JUL 27, 2020
Exploring the Complexities of Latinidad and Community | The Cut | JUL 28, 2020
Photographs Exploring What It Means to Be Black in Puerto Rico | AnOther Magazine | AUG 6, 2020
Adriana Loureiro: Hope is the Last Thing You Lose | Metal Magazine | AUG 2020
Curated by Michael Kamber and Cynthia Rivera.


Spanish translations by Maria De La Paz Galindo
The 3rd Annual Latin American Foto Festival is made possible by the New York State Council on the Arts with the support of Governor Andrew M. Cuomo and the New York State Legislature, by public funds from the New York City Department of Cultural Affairs in partnership with the City Council, the National Endowment for the Arts, and Con Edison.
The outdoor exhibits were printed by Photoville.
HEADER IMAGE: A young girl harvesting poppy in the mountains of Guerrero. She doesn't go to school, she works taking opium from the poppy to help her family. Guerrero, Mexico. © Cesar R. Guerrero

INTERIOR IMAGES (LR): Yanca Cristina Oliveira de Souza 22. "Since I was 10 I was taking part of beauty contests, I was named The Miss of the City of Barretos, Miss Cowboy, Miss Comercio, and a couple of others but the only contest that I truly dreamed of winning was Queen of the Independents, and today my dream came true. I want to do my best to represent the Festa do Peao. " © Luisa Dörr; Luis works in the tull (the garden of the house), cleaning the corn. Angela, her oldest daughter has come out to see how the wind pushes the plants and whistles among the mountains. The tull is the space next to the house where the most important plants of the house are sown, as well as their food security: corn, beans, aromatic and medicinal herbs, among others. This image is part of my monographic work Behind the Mountain that delves into the indigenous life of Cauca in contemporary Colombia, in a personal journey through the roots of my Nasa indigenous family. © Jorge Panchoaga