ON VIEW
Jun 5 - Jun 27, 2021

PLEASE NOTE THE GALLERY WILL BE CLOSED SATURDAY, JUNE 19, 2021 IN OBSERVANCE OF JUNETEENTH.

ON VIEW
EXHIBITION EXTENDED until Sunday, June 27, 2021
BDC, 614 Courtlandt Ave, Bronx, NY 10451
Gallery Hours (walk-ins welcome):

Wed-Fri 3-7PM + Sat-Sun 1-5PM

VIRTUAL EXHIBITION
bronxjuniorphotoleague.org
FEATURING
Gianna Almonte | Sarah Aviles | LaToya Beecham | Dawn Chaelce Bernardo | Danna Miriel Berroa | Elisa Cameron | Isabella Carchipulla | Izaiah Cardona | Anastasia Cardona | Jose Carrasco | Raymond Castillo | Olympia Chen | Rubie Couvertier | Gabriela Encalada | Joel Fernandez | Luis Freire | Alberto Garcia | Adrian Gonzalez | Yanick Ilboudo | Lucki Islam | Yoselin Jara | Savannah Juste | Aminata Kamara | Sophia Landrau | Amy Lilman | Dylan Lopez | Lyric Malloy | Samirali Masoud | Bryan Monge Serrano | Jocelyn Moreno | Evangeline Mujica | Carlos Pacheco | Alexa Pacheco | Jade Delilah Parks | Betelhem Petersson | Jay Pizarro | Ryan Plummer | Arwen Polanco | Dennise Reyes | Chloe Rodriguez | Paola Soto | Nnyala Stark | Adanna Taylor | CaraStar Tyner | Brian Velez


The Bronx Documentary Center (BDC) is proud to present the work of our 11-to-18-year-old Bronx Junior Photo League (BJPL) students in our annual year-end exhibition. Nearly 50 projects will be on view both as an online gallery and on-site exhibition at the Bronx Documentary Center's gallery at 614 Courtlandt Avenue, Bronx, NY, 10451.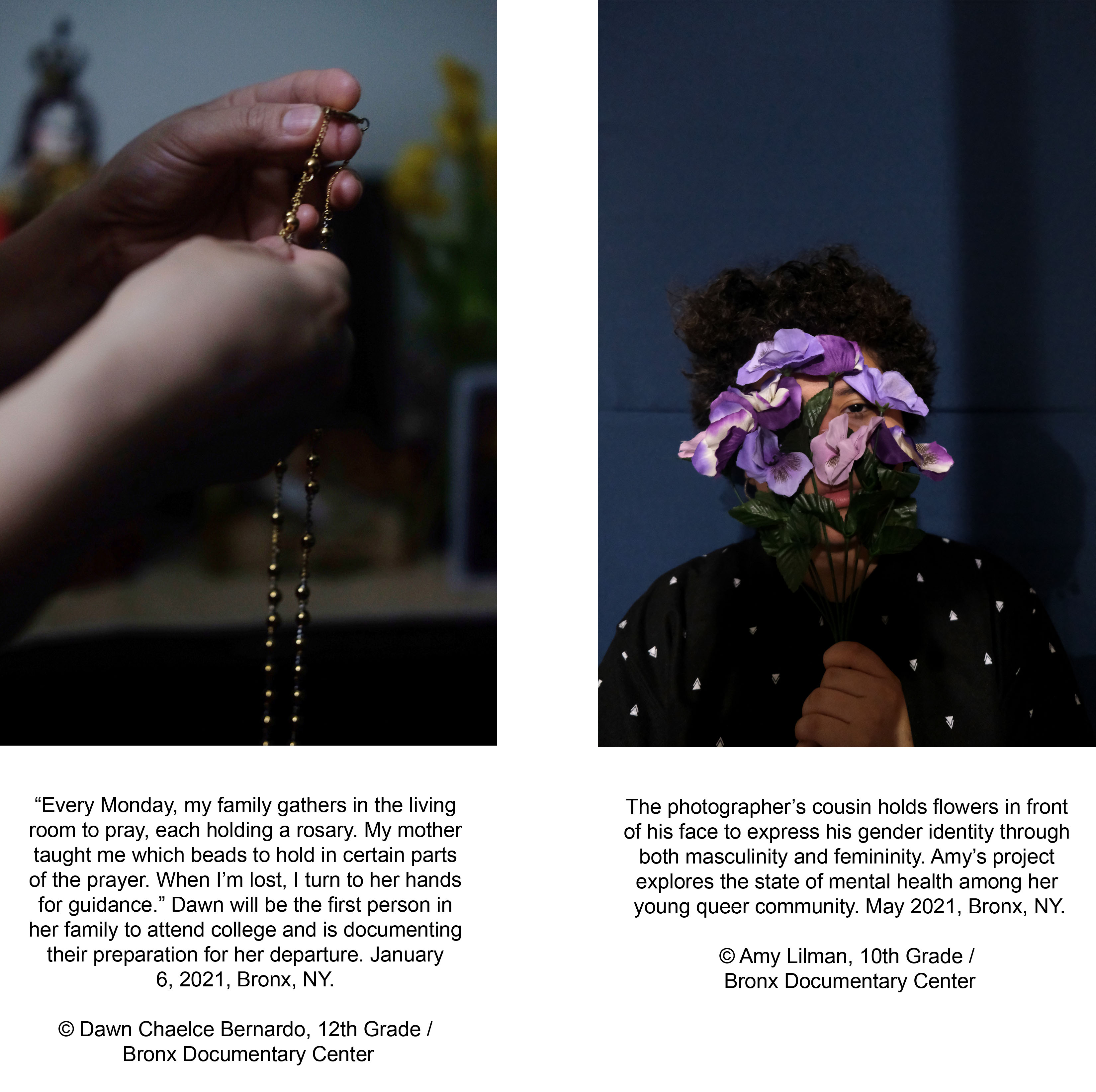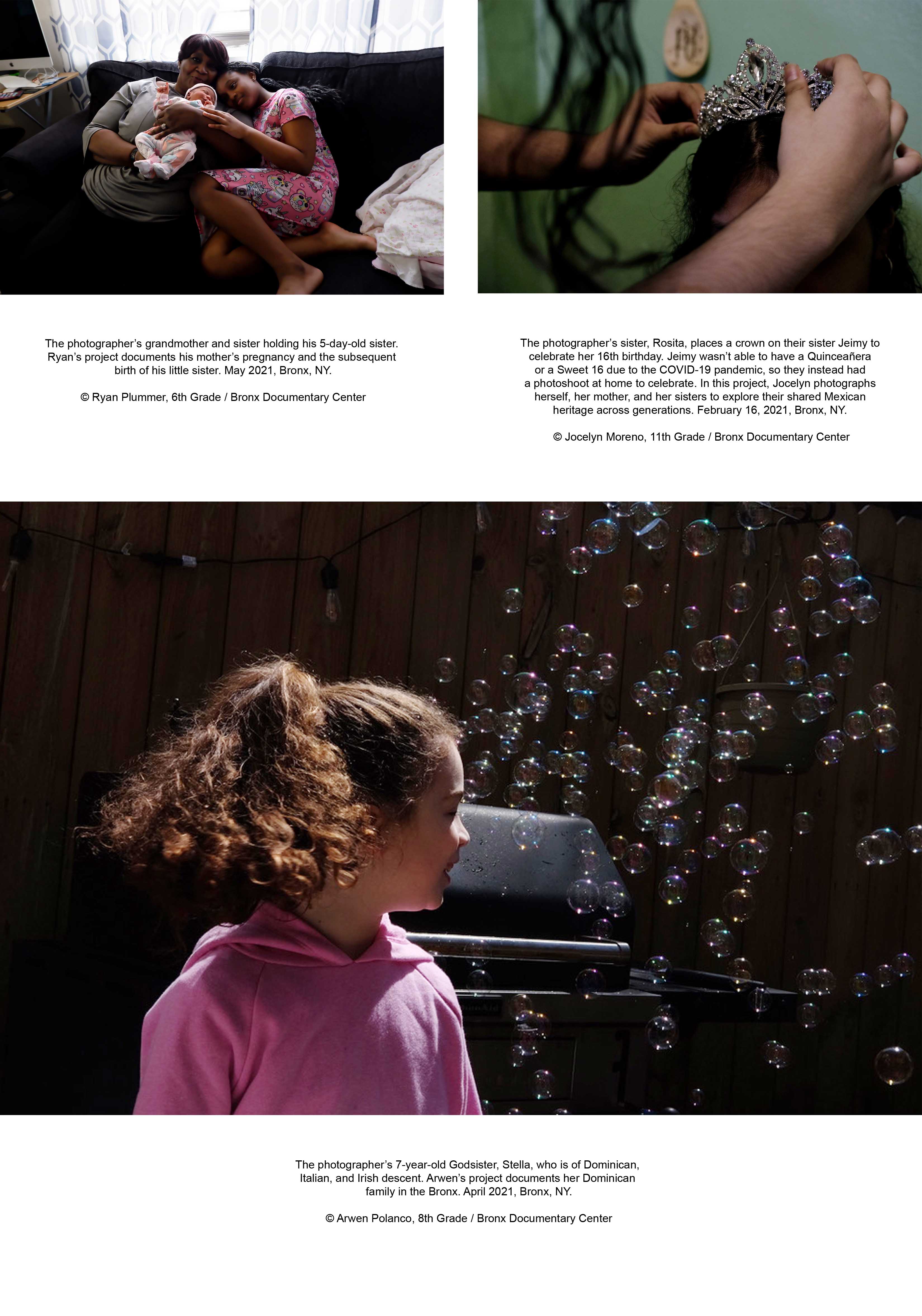 Middle School Virtual Opening Reception + Presentation
Thursday, June 3, 6-7:30PM
Register Here
High School Virtual Opening Reception + Presentation
Friday, June 4th, 6-7:30PM
Register Here
MAIN IMAGE
:
Life doesn't stop for any of us. I wish it did, but forevers only last in moments
. Moh before the music video shoot. Lucki is exploring the traumas that run beneath the surface of BIPOC teenage boys in the South Bronx, portraying the young men in her life for not only who they are, but who they can be. Bronx, NY, December 8, 2020. © Lucki Islam, 12th Grade / Bronx Documentary Center
The Bronx Junior Photo League is made possible, in part, by the Chris Hondros Fund, Citgo Foundation, Clif Family Foundation, Fujifilm, Hyde & Watson Foundation, Henry Nias Foundation, by public funds from the New York City Department of Cultural Affairs in partnership with the City Council and by City Council member Rafael Salamanca, the New York State Council on the Arts with the support of Governor Andrew Cuomo and State Legislature, Phillip and Edith Leonian Foundation, and the William Talbott Hillman Foundation.

All digital photos taken on DSLR cameras were generously provided by Fujfilm.