Bronx Junior Photo League
The Bronx Junior Photo League (BJPL) is a documentary photography and college success program serving middle through high school students.
Our free afterschool and summer documentary photography programs teach middle and high school Bronx students to use photography, writing, and research to explore social justice issues and prepare them for college and future careers. The program includes visits with internationally-renowned photographers, field trips to major cultural institutions and media outlets, and opportunities for life-changing national and international travel. BJPL students and families also participate in extensive college prep programming, including one-on-one counseling, financial aid workshops, and college tours.
Have questions? Visit our FAQ's page here.

---
BJPL 2022-2023 After-School Program
APPLICATION Deadline for the 2022/23 school year ARE NOW CLOSED
PLEASE STAY TUNED FOR 2023/24 APPLICATION DEADLINE
MIDDLE SCHOOL
October 12, 2022 - June 1, 2023
Wednesdays, 4:15-6PM

APPLICATION DEADLINE FOR the 2023/24 SCHOOL YEAR: Friday, September 29th, 2023
Open to all students who will be in the 6th through 8th grades in Fall 2023.


HIGH SCHOOL
October 11, 2022 - June 2, 2023
Tuesdays + Thursdays, 4:30-6:30PM

APPLICATION DEADLINE FOR THE 2023/24 SCHOOL YEAR: Friday, September 29th, 2023
Open to all students who will be in the 9th through 12th grades in Fall 2023.
---
BJPL Summer Program
APPLICATIONS FOR THE 2023 SUMMER PROGRAM ARE OPEN!




APPLICATION DEADLINE: Friday, JUNE 23, 2023




The Bronx Junior Photo League summer program is a FREE six-week-long newspaper and zine and photobook making class for students entering the 7th through 12th grades.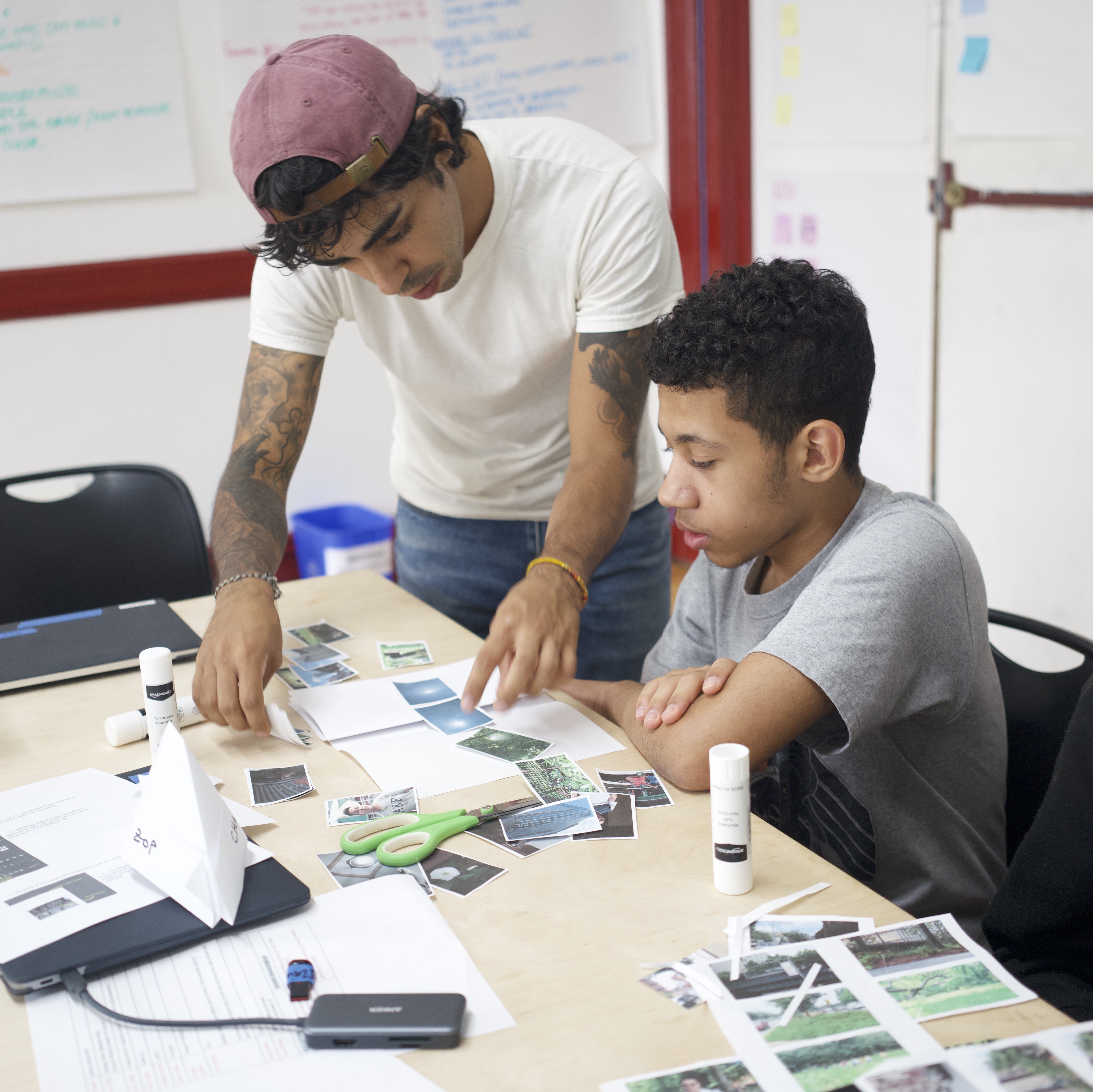 MIDDLE SCHOOL (In-Person) | 7th-8th Grade
Photobook Program

Program Dates: July 5 - August 11, 2023
Tuesdays 1-4PM or Thursdays 1-4PM
Apply here
Application Deadline: Friday, June 23, 2023
Students will explore storytelling with photography through the medium of a photobook, experimenting with collaging, zines, and sequencing, ultimately creating their own unique photobook. In weekly Creative Conversations, students will meet working photographers and editors to gain inspiration from their work and learn about possible career pathways.
Open to students entering the 7th-8th grades. No previous experience is necessary!
HIGH SCHOOL (In-Person) | 9th-12th Grade
Video Newsroom Program

Program Dates: July 5 - August 11, 2023
Mondays + Wednesdays, 11-3PM
Apply here
Application Deadline: Friday, June 16, 2023
Using their phones and simple recording equipment, High School students will learn to report, produce, and edit video news pieces, telling the stories of the Bronx in a visual medium. This class will include multiple reporting trips to landmarks like Yankee Stadium and the Bronx River.
Open to students entering the 9th-12th grades. No experience is necessary! Cameras and other materials are to be provided by the BDC.
Questions about the programs or the application?
"Drop-in" during the BJPL Open House on Friday, June 9th,
anytime from 3-7PM or contact Ricardo J. Partida, BJPL Coordinator, at
ricardo@bronxdoc.org
or 614-254-2234.
We will reach out to all applicants the week of June 13th regarding your admissions status.
*Both programs are an IN-PERSON class that will be held at the Bronx Documentary Center Annex at 364 151st Street.
---
COVID-19 Safety Precautions for On-Site Programming
Bronx Junior Photo League classes will follow rigorous health and safety protocols, including temperature screening, social distancing, and mask wearing, as per New York State Department of Health and Center for Disease Control and Prevention (CDC) guidelines. Parents and guardians will be asked to complete consent forms to participate in the BJPL summer program.
More information about the Bronx Documentary Center's COVID-19 safety procedures can be found here. If you have questions, please contact the Education Manager at jesse@bronxdoc.org.
The BDC requires vaccination for all eligible students. All New Yorkers age 12 or older are eligible to get the COVID vaccine and can schedule an appointment, walk-in without an appointment at many city-run vaccination sites, or walk in without an appointment at New York State-run vaccination sites.


We require submission of a negative COVID-19 test result to the BDC Education Manager prior to the first day of class each semester:


All students must submit a negative COVID-19 test result taken 3 days prior to the first day of class on October 13th or 14th, 2021.
All students must submit a negative COVID-19 test result taken 3 days prior to the first day of class on January 24th, 25th, or 26th.
Students will not be allowed to attend class until the test is submitted. Scroll down for information on Health & Hospital testing sites (all free) throughout New York City.

We will require consistent and correct use of well-fitting face masks with proper filtration by all students, staff, and visitors. The BDC will provide KN95 masks to students and staff each week.


A daily temperature screen is required for all students and staff upon arrival. This will be conducted by BDC staff and your temperature noted on the sign-in sheet. Anyone with temperatures above the guideline of 97.1-99.1°F will be requested to go home. We ask parents, guardians, or caregivers to monitor their children for signs of infectious illness including COVID-19. Children who have symptoms of any infectious illness or symptoms of COVID-19 should not attend. Staff will also monitor for signs of infectious illness, including COVID-19, and will not attend if they have symptoms.


Students and staff will be required to sanitize their hands every time they enter the building. Hand sanitizer is available at the entrance to all buildings and throughout the classroom.


We will clearly establish and enforce physical distancing. We will be meeting in the Bronx Documentary Center's Annex Gallery and in the adjacent community garden, which will enable us to enforce:

at least 3 feet between all masked students indoors,
at least 3 feet between all masked students outdoors,
and at least 6 feet while eating and drinking and unmasked.



We will have hand sanitizer and disinfectant supplies readily available through the classroom and will thoroughly clean between each class.

All meals will be eaten outdoors as weather allows.

We will plan for activities that can take place outdoors as much as possible, utilizing the community garden next door and our Melrose neighborhood. When classes are indoors, all windows will be opened for ventilation.

All activities will take place within walking distance of the Bronx Documentary Center. We will not take any public transportation during the class hours.


We will provide separated individual spaces to store each student's belongings. Each student will also be using individual equipment and supplies.

If anyone does not adhere to our safety guidelines after repeated (up to 3 instances) reminders from staff, we hold the right to dismiss them from the program.

We will follow these COVID-19 safety procedures if any students or staff show symptoms, receive a diagnosis or positive test of COVID-19, or have direct exposure to someone diagnosed with COVID-19. All COVID-19 concerns should be directed to Education Manager Bianca Farrow.
---
COVID-19 Vaccinations + Testing for Youth
Vaccinations for Students 12+
The COVID-19 vaccine is now available to all New York residents 12 and older. Read more on the phased vaccine distribution here. Note: People who are 12 to 17 years old are only eligible for the Pfizer vaccine.
If you have questions, call the New York State COVID-19 hotline at 833-NYS-4-VAX (833-697-4829).
Steps to get vaccinated:
Find a vaccination site near you (not accessible with Internet Explorer) to make an appointment or see if they accept walk-ins. You can also use this sites to help find appointments: https://nycvaccinelist.com/


New Yorkers must bring proof of age and New York residency. Some sites may only vaccinate people from a certain borough or ZIP code. See accepted forms of proof of eligibility here.
Minors must have identification to verify they are at least 16 years of age, or they must have a parent or legal guardian present to attest on their behalf. A parent or legal guardian must also provide consent for vaccination — either in person or by phone — at the time of the vaccine appointment.

You will not need to provide proof of immigration status or a social security number to get vaccinated. ID and residency documentation for proof of eligibility is to confirm eligibility for vaccination. When you receive the vaccine, your privacy will be protected. There are strict laws in place to ensure confidentiality of your personal information.
Complete the NYS COVID-19 Vaccine Form in order to get vaccinated. NYS requires the provider administering the vaccine to check that you completed the form.
Health & Hospital Testing Sites for Children Under 18 Years of Age
---
BJPL in the Media
---
Meet The BJPL
Students in our free after-school program gather each week to explore the issues and stories that connect their Bronx community to the wider world through photography and writing.
With the help of community members like you, the Bronx Junior Photo League can continue to grow. Support the BJPL today.


Past BDC students and alumni share their experiences at the BDC.
BOOGIE DOWN KIDS AT BX DOCUMENTARY CENTER from SOALife on Vimeo.