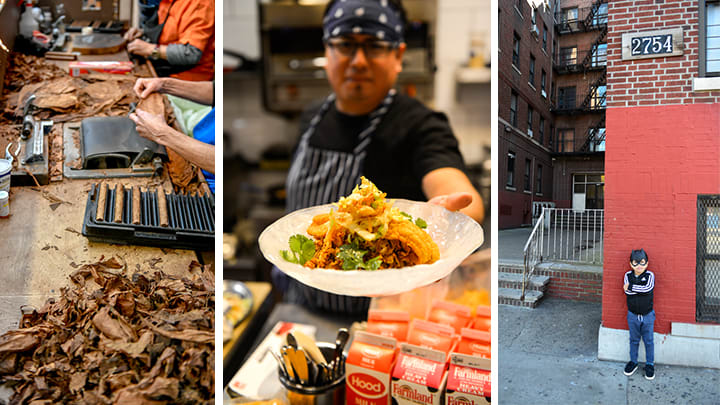 111 Places in Da Bronx You Must Not Miss

Thursday
Sep 5, 2019 | 7pm
The Bronx Documentary Center welcomes author Kevin C. Fitzpatrick and renowned Bronx photographer Joe Conzo Jr, for a book talk and slideshow. Fitzpatrick and Conzo will present work from their guidebook, 111 Places in Da Bronx That You Must Not Miss.
The northernmost borough of New York City is buzzing with creativity, innovation, and entrepreneurship, thanks to the history and strong sense of community that make the Bronx so unique. In his new guidebook, 111 Places in Da Bronx That You Must Not Miss, author Kevin C. Fitzpatrick reveals the startling places and intriguing stories hidden throughout this fabled borough, along with the people who are taking the Bronx to new heights today. Fully illustrated with 111 full-page color photographs by photographer Joe Conzo.


BIOS
Photographer
JOE CONZO JR. co-author of Born in the Bronx, has been documenting the people of his native borough since the 1970s. As the first graduating class of South Bronx High School, Conzo came up as the official photographer for the Cold Crush Brothers at the dawn of Hip Hop. From the school gymnasiums to the local Police Athletic League, Conzo documented the first generation of DJs and MCs as they invented an art form that brought the creativity of the streets to the world. His entire collection will reside in the permanent Hip Hop archive at Cornell University. Joe Conzo Jr. continues to lecture, meet with young people, exhibit his work, and attend international events.
Author
KEVIN C. FITZPATRICK is a third-generation New Yorker and the author and editor of seven books tied to New York City history, including guides to Governors Island, Jazz Age Manhattan, literary landmarks, and the city's ties to WWI. Kevin has been a licensed NYC sightseeing guide for 20 years, leading tours of places from Woodlawn Cemetery to the Statue of Liberty, which he has climbed more than 200 times.


PHOTOS: © Joe Conzo Jr.