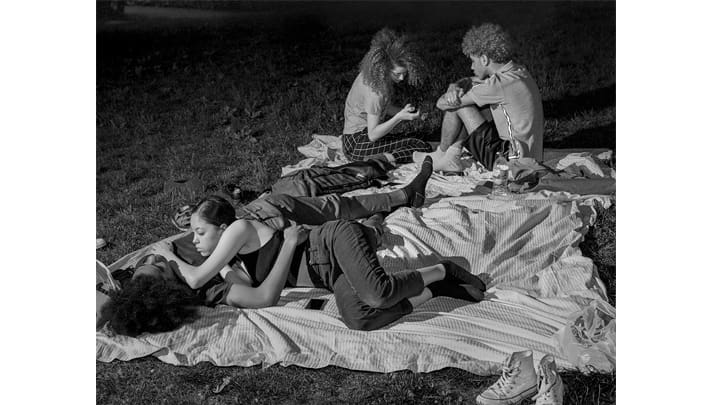 Friday
Jan 25, 2019 | 7pm

Dyckman Haze by Adam Pape is a curious story about the parks of Manhattan and the people who escape there to reinvent themselves in the form of a photobook. Pape pictures the parks as transformative places which lend themselves to ordinary and not-so-ordinary encounters.

In the city there are ways to escape the grid and walk along lines unseen. The city parks of New York offer this escape, eliciting both alienation and intoxication. They allow citizens and nature a space for growth and a second city away from eyes on the street. Adam Pape's photographs utilize the city parks in Washington Heights and Inwood as the backdrop for a narrative that unfolds in between day and night. Like a churches and temples, parks are transformative. Here, young people have a public stage where they can try on different roles in the dark. Other citizens wander, fish, smoke, and pass time while animals lurk in the urban fringes, a reminder of nature's promises and perils. These monochromatic images, directed by Pape and artificially lit, depict an ongoing exchange between humans, animals, and the landscape. In the furthest reach of Manhattan, sectioned off from further development, history and myth are at play.

Bio
ADAM PAPE is a photographer based in New York City. Born in Smithfield Virginia, he earned his BFA from the Maryland Institute College of Art in 2006 and his MFA from Yale in 2016. His work has appeared in several publications including The New Yorker Magazine. His photographs from Inwood and Washington Heights will be published in his upcoming monograph Dyckman Haze with MACK Books.
MACK is an independent art and photography publishing house based in London. Mack works with established and emerging artists, writers and curators, and cultural institutions, releasing between 20-25 books per year. The publisher was founded in 2010 in London by Michael Mack.

Suggested donation: $5 Bronx Residents, $10 General Admission, 18 and under Free. Tickets are available at the door.
Our venue is on the ground floor and is wheelchair accessible. The bathroom is
non gender-segregated
.
For further information call 718-993-3512.

HEADER PHOTO: © Adam Pape