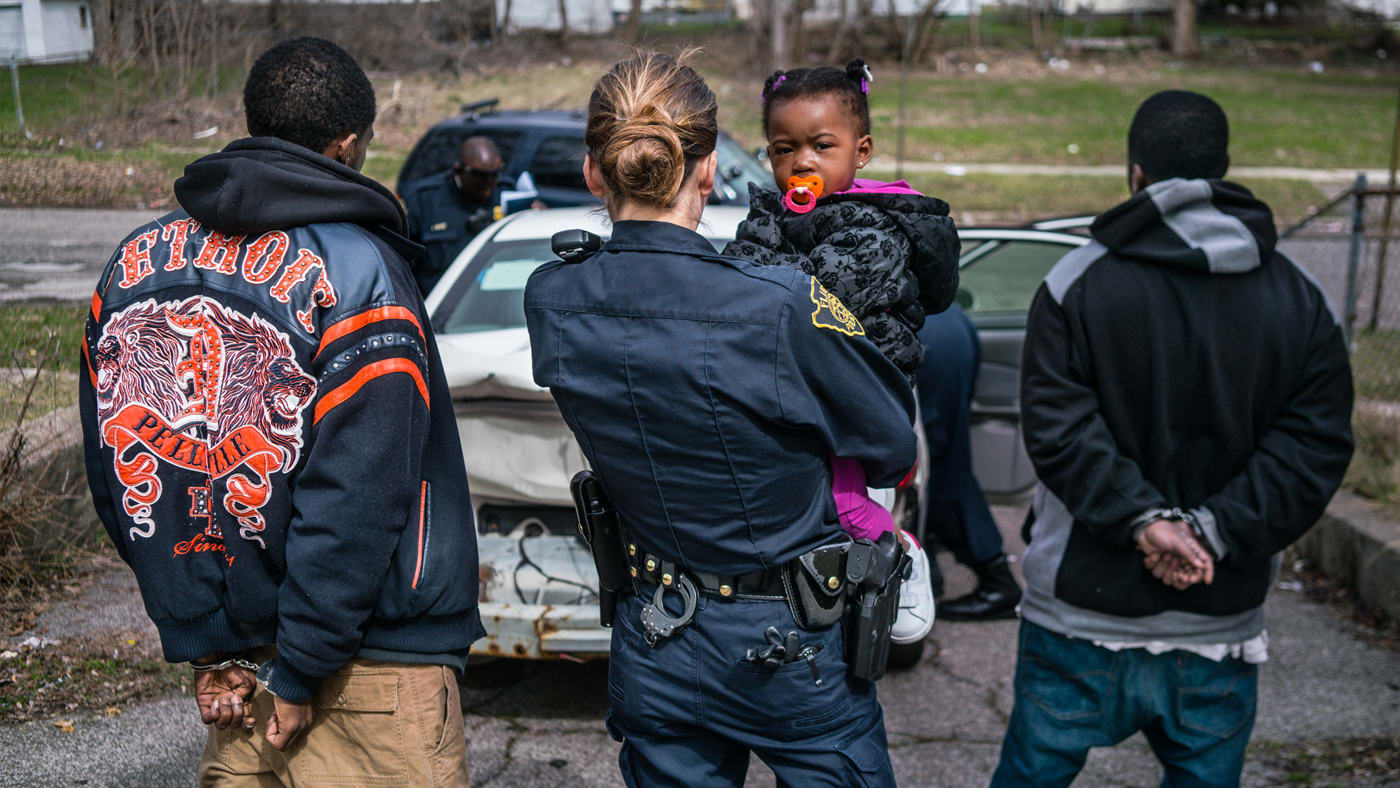 Sunday
May 20, 2018 | 7pm
Post-screening discussion with co-directors Jessica Dimmock and Zackary Canepari, film subject and former Flint police officer Brian Willingham, and Bronx Defender attorney Shakeer Rahman.
* We will be screening episodes 3 and 4. We recommend audience members watch episodes 1 and 2 in advance here.

With unprecedented access, Flint Town is an intimate look inside a struggling police department that follows an ensemble cast of officers as they grapple with the challenges of policing a broken city while nationally, tensions between the police and community are more fragile than ever. Through very candid, and often unheard voices, both black and white police officers confront notions of race, implicit bias, and use of force in policing a city like Flint.
Flint is one of the most relevant cities in America. It's also one of the poorest and most violent. But it wasn't always this way. Flint used to be the poster city for middle-class America. In the 1970's, when General Motors employed most of the city, Flint had the highest median income in the country. Today, it has the lowest. Schools have shut down, thousands of homes are abandoned and those that remain occupied have little to no value. People are desperate. As a result, crime and murder rates continue to soar. And now, with the water crisis, Flint has become the focal point for Americans who have been left behind in this new global economy.
In the middle of this situation is the Flint Police Department. Despite the need for adequate resources to deal with the high crime rates in Flint, the FPD has long been one of the most understaffed police departments in America. Over the last ten years, they've seen their numbers go from 300 officers to less than 100. They have 8 officers on patrol at any given time. For a city of 100,000 people, that's ¼ the national average. Now, with all that's going on in Flint, the water crisis, a new mayor, a new police chief and rumors of civil unrest, the Flint Police are trying to keep the city and themselves from imploding.
BIOS
ZACKARY CANEPARI (USA, 1979) is a visual storyteller working in a variety of different mediums. He began his career as a photojournalist in India/Pakistan before teaming with filmmaker Drea Cooper in 2010 and launching California is a place, a documentary film series which screened at Sundance and was viewed more than two million times.
The California series created new opportunities in both the commercial space and the editorial space for Canepari's work and led to the project that first sent him to Flint, Michigan. The documentary feature film T-Rex, also co-directed by Drea Cooper, told the story of teenage Olympic boxer and Flint native, Claressa "T-Rex" Shields. T-Rex premiered at SXSW in March 2015 and was featured on PBS in August 2016.
Canepari then released his first monograph about Flint, titled REX, which was published by Contrasto and won Photobook of the Year at the POYi Awards. In 2016, he launched Flint is a place, a sort of version 2.0 to the California project. Flint is a place consists of reportage, short films, found photos, virtual reality, interactive maps, and archival material. Canepari's ongoing work in Flint resulted in his first World Press Photo Award and being named as Multimedia Photographer of the Year at the POYi Awards in 2016.


JESSICA DIMMOCK is the recipient of numerous international awards for her photography and video work, including two World Press Photo awards for short films, The Inge Morath Award from Magnum, the F Award for Concerned Photography from Forma and Fabrica, The Infinity Award for Journalist of the Year from the International Center of Photography, and The Kodak Award for Best Cinematography at the Hamptons International Film Festival.
She is a Sundance Edit and Story Lab Fellow, and her first feature film, The Pearl, was awarded the Grand Jury Prize at the Dallas International Film Festival. She was listed as one of the "25 New Faces of Independent Film" by Filmmaker Magazine and was nominated for an Emmy for her work for a Doctors Without Borders short film series.
Jessica began her film work when the artist Moby asked her to direct a music video for his upcoming single, "Wait For Me," and since then her clients have included HBO, The New Yorker, The New York Times Magazine, Microsoft, The UNFPA, Showtime, and PBS. She is also the director of the Netflix documentary series, Flint Town.


BRIAN WILLINGHAM was born and raised in Flint Michigan during the civil rights era. He served with the US Army in Germany during the Revolutions of 1989. After that, Willingham was a member of the Flint Police Department for 20 years before retiring. He received the Volunteer Service Award from President George W. Bush in 2007. He recently published his first book, Soul of A Black Cop. It is a day-to-day account of life as a patrolman in Flint's black community. Pulitzer prize-winning author Leon F. Litwack wrote,"[Soul of A Black Cop] is a scream from the bottom...a compelling and often unnerving documentary portrait of an urban war zone in which people endure lives of quiet despair..unique, poignant for it's humanity."


SHAKEER RAHMAN is an attorney in the Impact Litigation Practice at The Bronx Defenders, where his work includes helping Bronx residents confront systemic injustices in how they are policed. Shakeer has written about policing in the Harvard Law Review, the New York Times, Al Jazeera America, Dissent Magazine, and the London Review of Books blog.

Suggested donation: $5 Bronx Residents, $10 General Admission, 18 and under Free. Tickets are available at the door.

Our venue is on the ground floor and is wheelchair accessible. The bathroom is non gender-segregated. For further information call 718-993-3512.