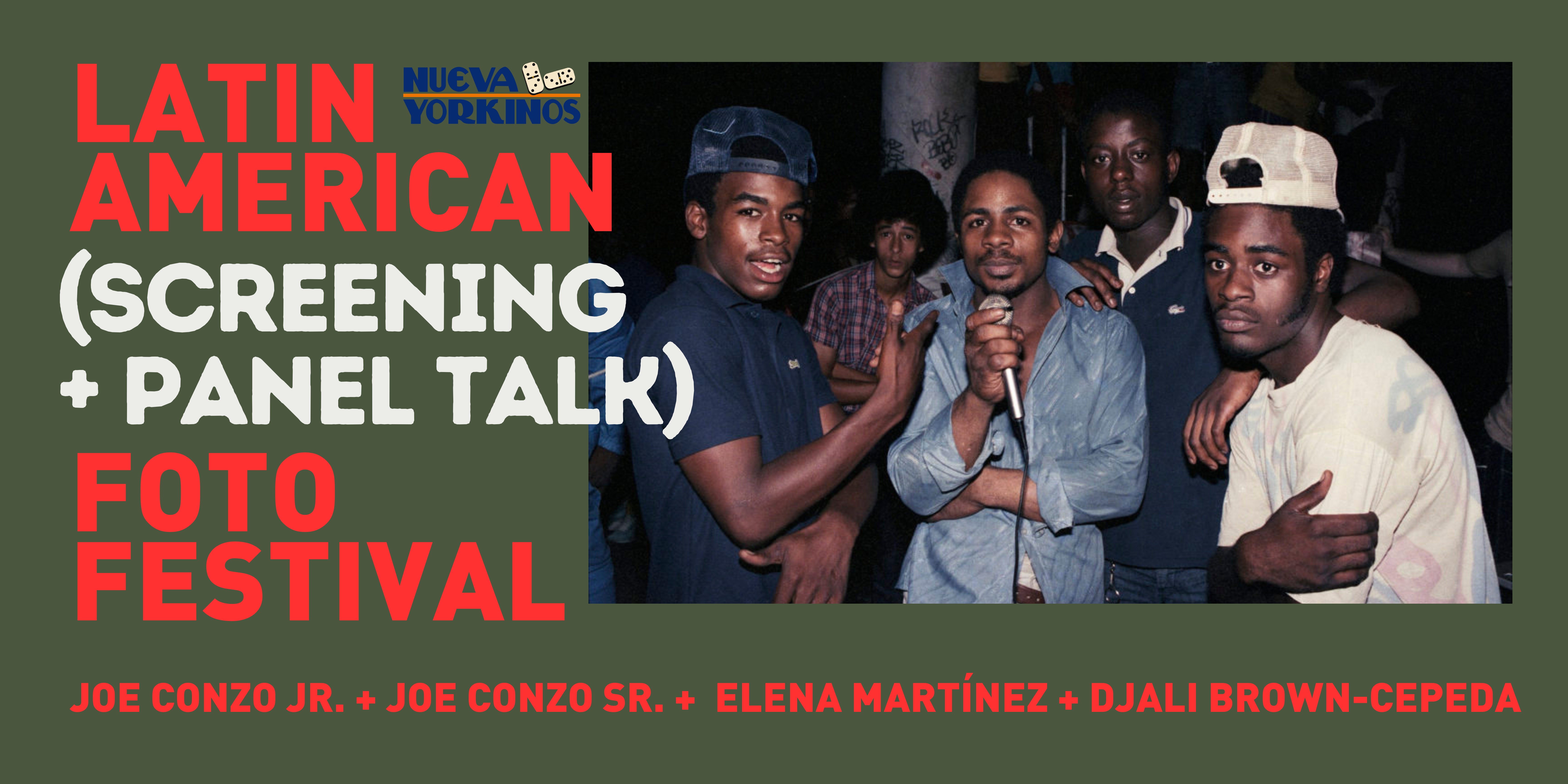 LAFF: From Mambo to Hip-Hop

Saturday
Jul 15, 2023 | 5pm

BDC Annex, 364 East 151st St, Bronx, NY 10455
Join us for a screening of From Mambo to Hip-Hop: A South Bronx Tale, a documentary that traces the musical and cultural legacy of the South Bronx. Directed by Henry Chalfant, the film celebrates the ingenuity and artistry of music that arose from the South Bronx's most dire eras, and how mambo, salsa and hip-hop have redefined a neighborhood once seen as the pinnacle of urban decay.
This event is held in partnership with Nueavyorkinos.
After the screening, Djali Brown-Cepeda, Founder & Curator of Nuevayorkinos will host a panel talk to discuss the history witnessed with legendary photographer Joe Conzo Jr., celebrated lecturer and author, Joe Conzo Sr, and Bronx Music Heritage Center's Co-Artistic Director and film producer, Elena Martínez.
Bios:
Djali Brown-Cepeda is an Afro-Indigenous Dominican archivist and filmmaker from Upper Manhattan and the Bronx, New York City. She is the Founder and Curator of Nuevayorkinos, a digital archive, multimedia project documenting New York City Latino and Caribbean cultures and histories through family photographs and stories. She runs the project with her life partner. Nuevayorkinos has exhibited at El Museo del Barrio and MoMA PS1 in NYC, and the MACLA in San José, CA, and has been featured in various publications, including The New Yorker, Dazed Digital, The New York Times, and Latina Magazine.
The New York Times, heralded Joe Conzo Jr. as "The Man Who Took Hip-Hop's Baby Pictures." The long and perilous journey of his photographic images had finally captured the gaze of mainstream America. Born and raised in the Bronx, Mr. Conzo acquired a passion for photography as a young boy attending the Agnes Russell School on the campus of Columbia University. He continued his formal artistic education at the School of Visual Arts (NYC). He also received certification as a Combat Medic. Later, he would join the New York Fire Department as an Emergency Medical Technician. It was his role as an EMT that delivered him to the World Trade Center on the morning of September 11, 2001. All the while, he continued his photography and published a seminal book on hip hop culture that has received worldwide acclaim —"Born In The Bronx: A Visual Record of the Early Days of Hip Hop" (2007). In 2008, this entire collection of images became part of a permanent archive housed at Cornell University. The digitization of over 10,000 of Mr. Conzo's film images has already begun—progress can be viewed at the Cornell University Library's website. This collection is regarded by genre experts and academia as an important lens into the roots of Hip Hop culture, the Urban NYC landscape of the 70's and 80's, and an integral source for any serious discourse on the movement.
Joe Conzo Sr. is a celebrated Latin music and Latin Jazz lecturer, author of the book Mambo Diablo, and producer and best friend of the late legendary timbalero and orchestra leader Tito Puente.
Elena Martínez is the Co-Artistic Director of the Bronx Music Heritage Center, a gallery and performance space that celebrates the Bronx's musical and artistic legacy, and she has been a Folklorist at City Lore since 1997. She has produced or co-produced documentaries such as From Mambo to Hip Hop: A South Bronx Tale (PBS 2006, winner of a 2007 ALMA Award for Best TV Documentary), We Like It Like That: The Story of Latin Boogaloo (SXSW Festival 2015), and Eddie Palmieri: A Revolution on Harlem River Drive (Red Bull Academy 2016). She has been awarded a 2013 BOROMIX Puerto Rican Heritage Award, Comité Noviembre's Lo Mejor de Nuestra Comunidad 2013, and a 2016 Community Award by El Maestro's Cultural & Educational Center. Presently, she is working on a research project focusing on the Afro-Puerto Rican participation in the 369th Regimental Band (the "Harlem Hellfighters") during WWI. (Photo of Elena Martinez by Francisco Molina Reyes II.)
Nueavyorkinos is a digital archive documenting and preserving New York City Latinx culture and history through family photos and stories.
Image: Henry Chalfant, Gman and Crew at the Park Jam 144th St. and 3rd Avenue, The Bronx, 1984 (1984). Courtesy of Eric Firestone Gallery.