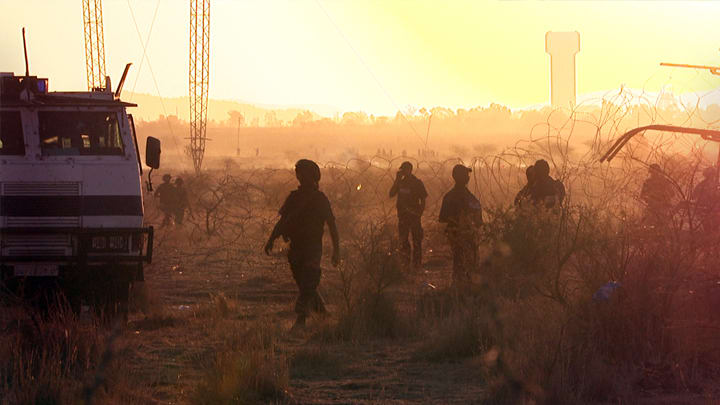 Saturday
May 18, 2019 | 4pm
In August 2012, mine workers in one of South Africa's biggest platinum mines began a wildcat strike for better wages. Six days into the strike, the police used live ammunition to brutally suppress it, killing 34 and injuring many more. The police insisted that they shot in self-defense. Miners Shot Down tells a different story, one that unfolds in real time over seven days, like a ticking time bomb.
The film weaves together the central point of view of three strike leaders, Mambush, Tholakele and Mzoxolo, with compelling police footage, archival TV footage and interviews with lawyers representing the miners in the ensuing commission of inquiry into the massacre. What emerges is a tragedy that arises out of the deep fault lines in South Africa's nascent democracy, of enduring poverty and a 20-year-old, unfulfilled promise of a better life for all.
A campaigning film, beautifully shot, sensitively told and accompanied by a haunting soundtrack, Miners Shot Down reveals how far the African National Congress has strayed from its progressive liberationist roots.
There will be post-screening discussion with the film's director Rehad Desai.
BIO
REHAD DESAI is a Producer and Director who runs his own company, Uhuru Productions. Following his return from political exile in the United Kingdom, Rehad worked as a trade union organiser, a health and safety and media officer for a chemical workers union and as a Director of a HIV prevention NGO. In 1997 he completed his Masters Degree in Social History at the University of the Witwatersrand. Rehad then entered the TV and film industry as a current affairs journalist, and soon after changed his focus to historical and socio-political documentary film. In 2009 he completed a post graduate diploma in documentary through Eurodoc. Since, he has produced over 20 documentaries, many he directed himself. These films have been broadcast internationally and accepted into numerous festivals. His last film Miners Shot Down has won local and international critical acclaim garnering over 25 prizes including the Taco Keiper award for investigative journalism and an International Emmy for best documentary. He is also a well known social justice activist that chairs the Human Rights Media Trust and the South Africa Screen Federation.
HEADER: © Miners Shot Down