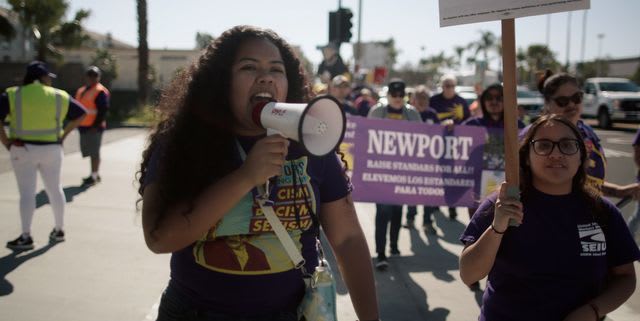 The American Dream and Other Fairy Tales

Monday
Feb 13, 2023 | 6pm
On Monday, February 13, the BDC will present a screening of The American Dream and Other Fairy Tales, a documentary by filmmakers Abigail E. Disney and Kathleen Hughes. A Q&A with the filmmakers moderated by Joshua Freeman, Distinguished Professor of History at the CUNY School of Labor and Urban Studies, will follow.
In this feature-length documentary, The American Dream and Other Fairy Tales filmmaker and philanthropist Abigail Disney reexamines the story of modern American capitalism from the middle of the last century, when wealth was shared more equitably, to today, when CEO's earn upwards of 800 times more than their average employees. What happened? What Abigail learns - about racism, corporate power and the American Dream, is eye-opening, unexpected, and inspiring in that it begins to imagine a path to a fairer future for everyone.
Bronx Residents can attend for FREE by providing their Zip Code at Checkout. Seating is limited.
SPEAKERS
ABIGAIL E. DISNEY | DIRECTOR, PRODUCER
Abigail E. Disney advocates for real changes to the way capitalism operates in today's world. As a philanthropist and social activist, she has worked with organizations supporting peacebuilding, gender justice, and systemic cultural change. She is an Emmy-winning documentary filmmaker and Co-Founder of Fork Films, a nonfiction media production company, which produces original documentaries and the podcast "All Ears." Her latest film, The American Dream and Other Fairy Tales, which she co-directed with Kathleen Hughes, made its world premiere at the 2022 Sundance Film Festival.
KATHLEEN HUGHES | DIRECTOR, PRODUCER
An award-winning producer, director, and writer, Kathleen first teamed up with Abigail E. Disney as the co-director and producer of The Armor of Light, which premiered at the 2015 Tribeca Film Festival. It won an Emmy and was shortlisted for a 2017 Peabody Award. On the subject of inequality, she spent more than 21 years as a director, producer, and writer on the award-winning series of Bill Moyers/PBS Frontline films tracking two families in Milwaukee, Wisconsin, as they struggled to hold on in an economy that no longer rewards hard work. The final installation was called Two American Families. From 2008-11 she served as the Executive Producer of WNET's multi-platform series Blueprint America. At Blueprint, she oversaw the creation of reports about America's crumbling infrastructure for a wide range of public media outlets including PBS NewsHour, National Public Radio, Bill Moyers' Journal, Now on PBS, and Need To Know. Her Emmy Award-winning, 90-minute PBS/Bill Moyers investigation into the media's coverage of the Bush Administration's case for invading Iraq, "Buying The War" was called "one of the most gripping and important pieces of broadcast journalism this year" by The Washington Post. She has produced, directed, and/or written many Moyers documentaries, as well as films for PBS Frontline and ABC News Turning Point.
JOSHUA FREEMAN | PROFESSOR OF HISTORY, CITY UNIVERSITY OF NEW YORK
Professor Freeman received a B.A. from Harvard University and M.A. and Ph.D. degrees from Rutgers University. He previously taught at Columbia University and the College at Old Westbury, SUNY. He has written extensively about the history of labor, modern America, and New York City. His books include Behemoth: A History of the Factory and the Making of the Modern World; Working-Class New York: Life and Labor since World War II; American Empire: The Rise of a Global Power, the Democratic Revolution at Home; In Transit: The Transport Workers Union in New York City, 1933-1966. He is the co-editor (with Steve Fraser) of Audacious Democracy: Labor, Intellectuals, and the Social Renewal of America. Dr. Freeman has appeared in several television documentaries, including the American Experience episode, "Blackout," and 'Ric Burns' New York'. He has consulted for unions and for the New York City Central Labor Council on strategy and internal education.
© The American Dream and Other Fairy Tales