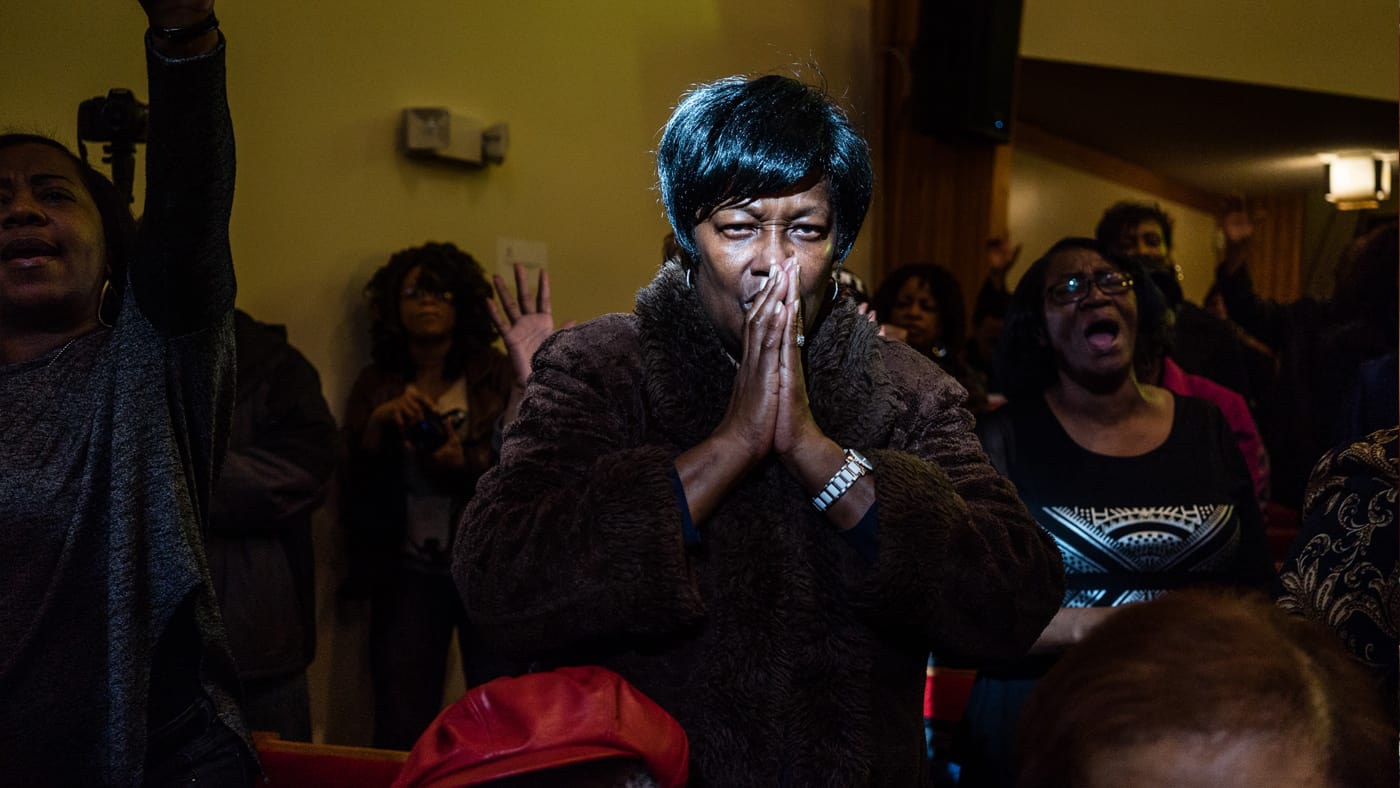 opening reception
Apr 26, 2018 | 6 - 9pm
ON VIEW
Apr 26 - May 27, 2018
Please note the gallery will be closed this Saturday, May 5th. Regular gallery hours will return Sunday.

Screening + Discussion T-Rex | Wednesday, May 9th, 7PM
Artist Talk: Zackary Canepari in conversation with Jessica Dimmock | Thursday, May 10th, 7PM

Flint is a place that no longer needs an introduction after this past year and it probably hasn't needed one for the past 30 years. The city has long been the poster child for the American dream gone wrong. In a perfect world, this project would be conveying some other reality. But these ideas about Flint are accurate. Flint is a place of struggle. It's true and everybody knows it. But that's not all it is...
Flint is a place is a cross platform episodic exhibition about Flint, Michigan. The project seeks to document a specific moment within this American city both as it's perceived and experienced. The idea is not to show people some place that they don't know. The idea is to put them in a place that they think they do know.
This project actually started with another project. T-Rex is a feature documentary about a teenage girl from Flint co-directed by myself and Drea Cooper. Claressa is her birth name and she's a boxer. In fact she might be the best female boxer in the world.
Sports was Claressa's ticket out of Flint. Not so much for her younger sister Briana. Briana represents everyone who has been stuck in Flint. Tough. Charismatic. Resilient. Funny. Heroic, in a sense. Fighting everyday. But stuck stuck stuck.
While the film is about Claressa and her resilience and grit, the web series looks deeper into Flint, with themes about community, kinship and poverty. Flint is a place gives viewers an even deeper dive into the systems and people within Flint, a place with a strong identity and deep scars.
What happens in Flint happens in many other urban American cities. But in Flint, it happens all at once. It's what makes Flint so important in the national conversation. It's been like a testing zone for American mismanagement. Eventually, something will have to change. Flint can't go on like this. Better seems really far-fetched. Worse seems almost unimaginable. Crazy as it seems people will be there no matter what. Cause they're proud. Or cause they're stuck. Somewhere between those two facts is the reality.
Purchase the exhibition poster here.
Created by Zackary Canepari
Transmedia producer - Liza Faktor
Art director / Graphic designer - Guillermo Brotons
Interactive designer / Developer - Frederik Delmotte
Produced by Screen
BIOS
ZACKARY CANEPARI (USA, 1979) is a photographer and filmmaker. He began his career as a photojournalist in India and Pakistan before teaming with filmmaker Drea Cooper in 2010 and launching California is a place, a documentary film series which screened at Sundance and was viewed more than 2 million times. The California series created new opportunities in both the commercial space and the editorial space for Canepari's work and led to the project that first sent him to Flint, Michigan. The documentary feature film T-Rex, also co-directed by Drea Cooper, told the story of teenage Olympic boxer and Flint native, Claressa "T-Rex" Shields. T-Rex premiered at SXSW in March 2015 and was featured on PBS in August 2016. In 2016, he launched Flint is a place cross platform episodic series which consists of reportage, short films, found photos, virtual reality, interactive maps and archival material. The work was awarded a Guggenheim Fellowship, a World Press Photo Award and Canepari was named Multimedia Photographer of the Year at the POYi Awards in 2016. Flint is a place will be completed by the end of 2018. His latest project, Flint Town, a Netflix documentary series about the Flint Police Department premiered in March 2018. Canepari is a member of the VII Photo Agency.
LIZA FAKTOR (USA) is a transmedia producer, curator and co-founder of Screen, a visual storytelling production company. Liza has produced award-winning installations, short films and multi-platform projects including The Northern Pass by Dominic Bracco (2017), Flint is a place by Zackary Canepari (2016-2017, IDFA official selection), and Streaming Nation by Alexey Layfurov (2014, IDFA official selection). She curated over twenty exhibitions including the Surveillance series (Dubai, 2015, NY, 2014), Stories of Life: the best of multimedia journalism (Moscow, 2013), PhotoQuai Biennale (Paris, 2013, 2015), and Projections of Reality (Washington, DC, Moscow, 2010). She was awarded Howard Chapnick grant for advancement of photojournalism twice (2002 & 2016) and was a jury member of the 2014 World Press Photo Multimedia Contest and the 2017 World Press Photo Digital Storytelling Contest. She has lectured and taught workshops worldwide and is a contributing editor at Vantage.

PHOTO: © Zackary Canepari