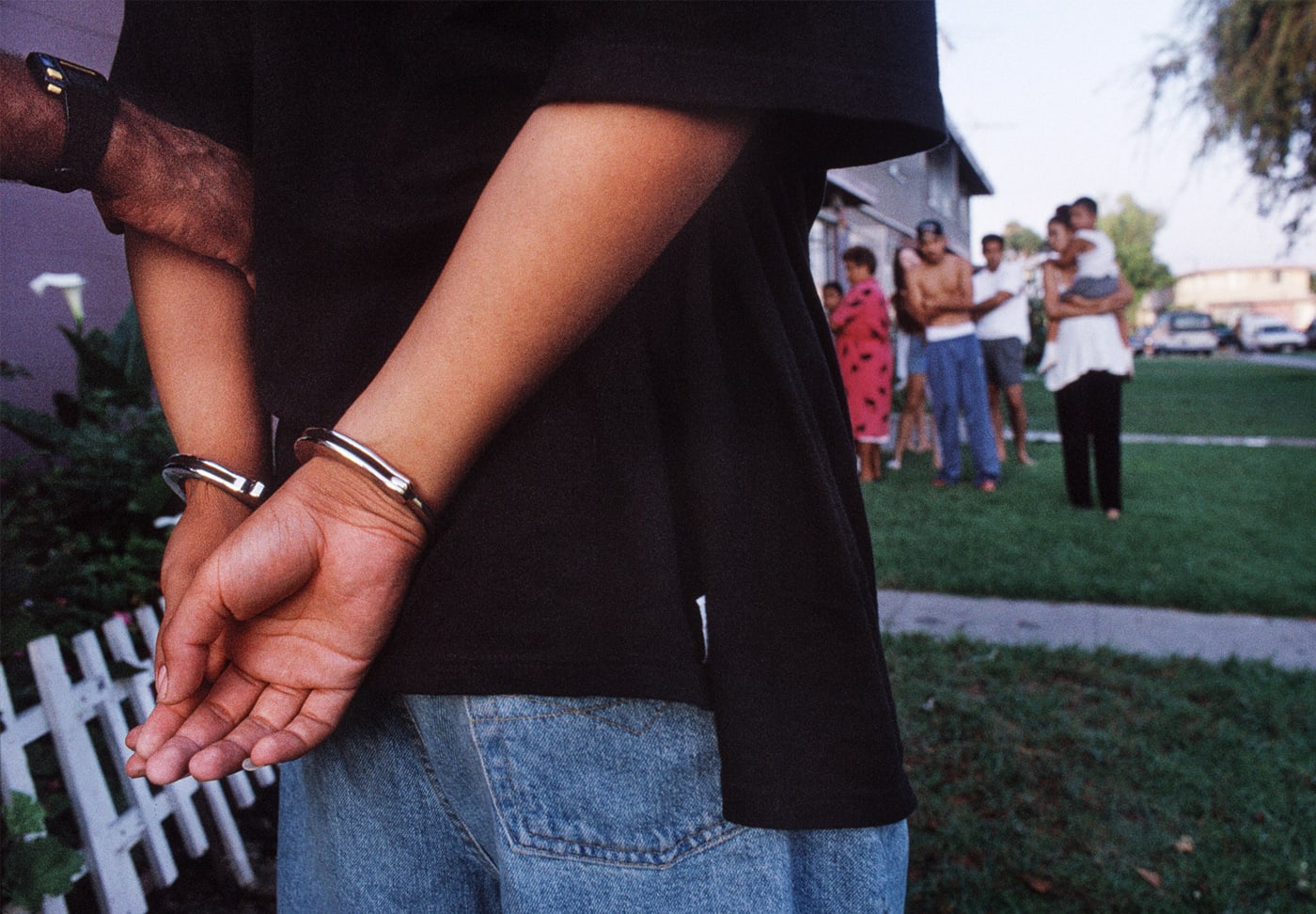 ON VIEW
Feb 5 - Mar 26, 2021


On February 5, 2021, the exhibition will be available to view at lapd1994bdc.org

In response to concerns around COVID-19 the Bronx Documentary Center has
canceled all gallery hours until further notice. This exhibition will open as an online gallery.



Friday, February 12th, 6PM EST
Virtual Panel Discussion with Joseph Rodríguez and writer Rubén Martínez. Moderated by journalist Lauren Lee White.
The event will be live-streamed via Zoom here.

In a year when millions of Americans poured into the streets demanding changes in police strategy, training and deployment, the Bronx Documentary Center (BDC) believes a crucial part of the conversation should be Joseph Rodríguez's photo series and just-released book, LAPD 1994.
The BDC's online exhibition with images and text from Rodríguez's book gives us an up close and personal look at the cops, victims, and violent perpetrators in working class communities of Pico Union, Rampart, and South Central Los Angeles.
Though the photos were taken more than 25 years ago, they serve as markers illuminating the path to our current society, one beset by debates about policing, violence and incarceration. As Rubén Martínez writes in its introduction, Rodríguez's body of work visually encompasses, "another moment that tore open the soul of America."

The exhibition is curated by Michael Kamber, and Cynthia Rivera. The exhibition website was designed by Cynthia Rivera.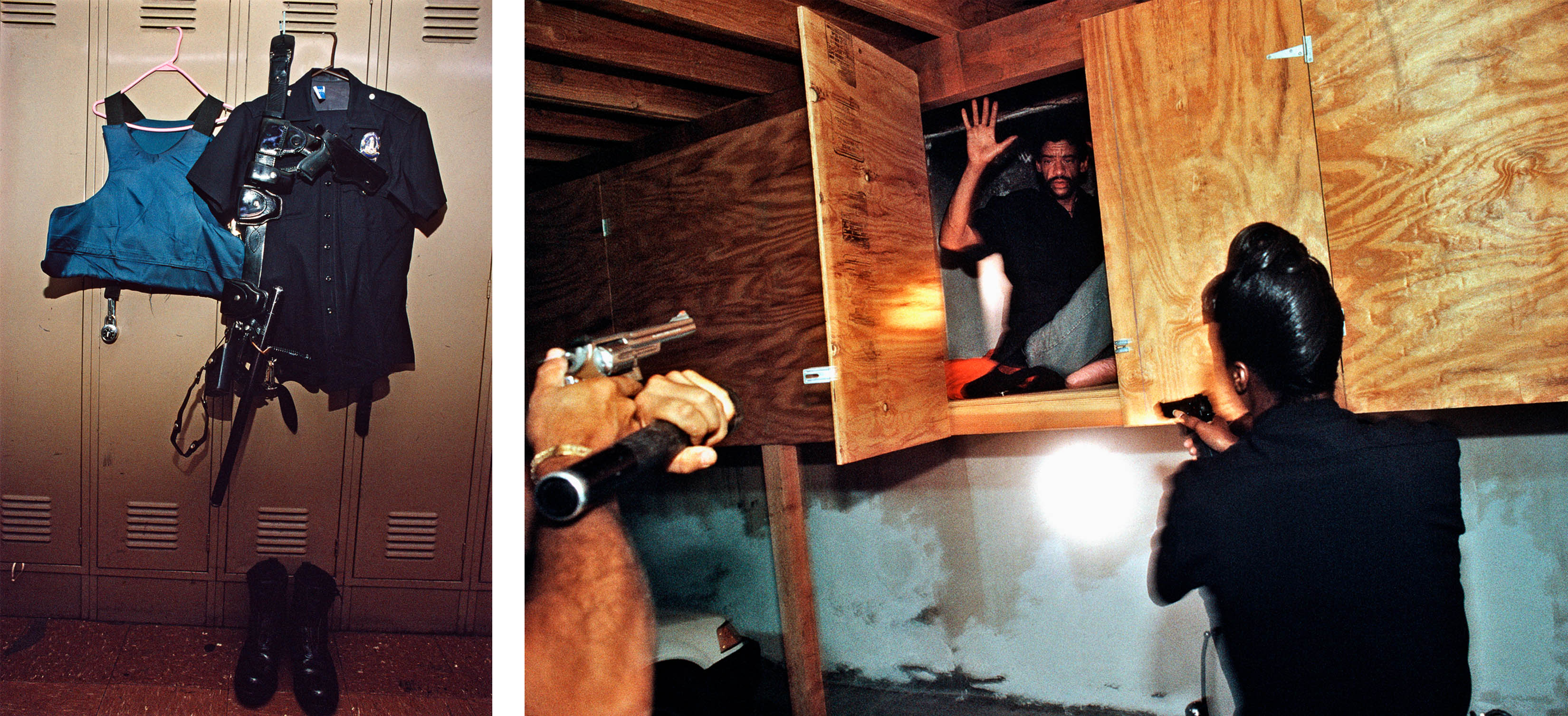 In the mid-nineties, the LAPD was in search of a public image makeover after the Rodney King uprisings. The City Charter was reformed by increasing civilian oversight of the LAPD, the militant police chief of the moment, Daryl Gates, was forced to resign and Willie Williams became the first African-American chief of the department.
As part of these efforts, the LAPD gave photographer Joseph Rodríguez unprecedented access to document the officers in the field for The New York Times, hoping to give the public an image of a "kinder, gentler cop", as the headline put it. For weeks, he immersed himself in the daily workings of the 77th Street, Pacific and Rampart Divisions.
Four years after Rodríguez rode along with Rampart officers, the station became notorious when the biggest scandal in LAPD history erupted in an astonishing spectacle of officer corruption that included the murder of a fellow cop, a bank robbery, unprovoked shootings of alleged gang members, drugs stolen from the evidence room, and other crimes – so much for a nicer, gentler cop.


In 2020, the year of Black Lives Matter, a generation after these photos were taken, new uprisings demand reform yet again and the same questions about policing – what are they for, who do they serve, and who do they protect – shape the public discussion.
The photos in LAPD 1994 display the subjectivity of Joseph Rodríguez as much as that of the cops and the civilians, who are the victims and sometimes perpetrators of violence – he is not afraid to humanize the cops, but the images also show the darker side of both the officers and the people they are sworn to protect.
The photobook LAPD1994 is available for purchase by publisher The Artist Edition here.

About the Artist

JOSEPH RODRÍGUEZ was born and raised in Brooklyn, New York. He began studying photography at the School of Visual Arts and went on to receive an Associate of Applied Science degree at New York City Technical College. He worked in the graphic arts industry before deciding to pursue photography further. In 1985 he graduated with a Photojournalism and Documentary diploma from the International Center of Photography in New York. He went on to work for Black Star photo agency, and print and online news organizations like Esquire, The Guardian, Mother Jones, National Geographic, New America Media, The New York Times Magazine, Newsweek, Stern, and The Washington Post. He has received awards and grants from the New York Foundation for the Arts, Artists' Fellowship, USC Annenberg Institute for Justice and Journalism, the Open Society Institute Justice Media Fellowship and Katrina Media Fellowship, National Endowment for the Arts, the Rockefeller Foundation, Mother Jones International Fund for Documentary Photography, and the Alicia Patterson Fellowship Fund for Investigative Journalism. He has been awarded Pictures of the Year by the National Press Photographers Association and the University of Missouri, in 1990, 1992, 1996 and 2002. He is the author of Spanish Harlem, part of the "American Scene" series, published by the National Museum of American Art/ D.A.P., as well as East Side Stories: Gang Life in East Los Angeles, Juvenile, Flesh Life Sex in Mexico City, and Still Here: Stories After Katrina, published by powerHouse Books. Recent exhibitions include Galerie Bene Taschen, Cologne, Germany; Irene Carlson Gallery of Photography, University of La Verne, California; Third Floor Gallery, Cardiff, Wales, UK Institute for Public Knowledge, New York, NY; Moving Walls, Open Society Institute, New York, NY; and Cultural Memory Matters, 601 Art Space, New York, NY.
IMAGES: (TOP- BOTTOM, L-R) A murder suspect is arrested at the Mar Vista Gardens housing project as his family watches. Un sospechoso de asesinato es detenido mientras su familia observa; Parts of Rampart Division uniform. Partes del uniforme de la división Rampart; Pacific Division officers confront a man found squatting in an apartment building garage. El oficial Llanes y su compañero revisan un garaje donde encuentran a un hombre que dormía y usaba drogas en los gabinetes; At an abandoned Westlake motel near Skid Row, de facto living quarters for dozens of people without homes, CRASH (Community Resources Against Street Hoodlums) Unit officers search for a murder suspect. Los oficiales de Rampart registran un motel abandonado en busca de un sospechoso de asesinato. El edificio está a solo unas manzanas de la antigua mansión de Charlie Chaplin; A man arrested for threatening a family member with a knife is questioned in a Rampart Station holding cell by Officer Jim Edwards. Oficiales de la División Rampart detienen a una mujer arrestada. © Joseph Rodríguez
This exhibition is made possible by the New York State Council on the Arts, Con Edison, in part, by public funds from the New York City Department of Cultural Affairs in partnership with the City Council, and Ford Foundation.