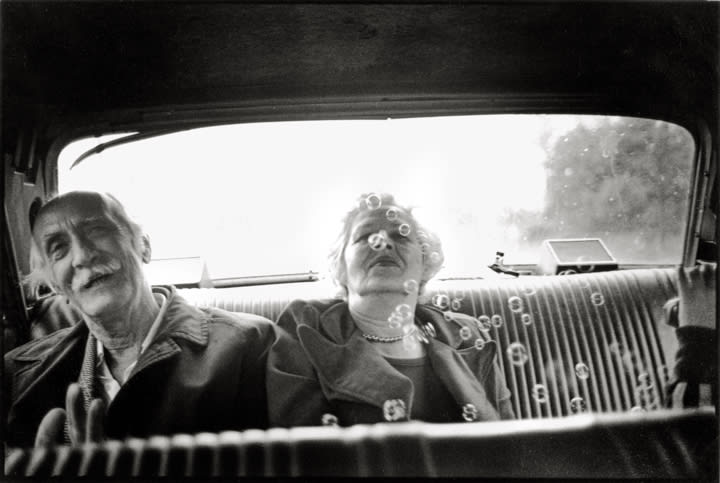 Sylvia Plachy | Echoes and Omens

opening reception
Sep 29, 2023 | 6 - 9pm
ON VIEW
Sep 29 - Nov 5, 2023

Opening Reception: Friday, September 29 I 6-9PM

Sylvia Plachy is one of the most prolific and influential photographers of the late 20th century. After fleeing the Hungarian Revolution as a child, hidden in a horse cart, Sylvia arrived in New York City and studied at Pratt Institute, graduating in 1965. Joining the Village Voice staff under New Journalism proponent Clay Felker in 1974, Sylvia went on to document four decades of cultural happenings, homicides, artists, riots, writers, circus animals, and street scenes. Her photographs capture a time when New York City was both a center of world culture and art and a deeply fractured, churning cauldron of politics, race, class, corruption and money.
Occasional forays to Eastern Europe, the first Gulf War and South America punctuated Sylvia's thousands of New York City assignments, primarily for the Voice, and also occasionally for Metropolis and other publications.
Armed with considerable charm and five cameras, including a battered Leica (for news or street work), a Hasselblad (usually for portraits) and a panoramic Widelux (often for parades and landscapes), Sylvia broke nearly every rule of composition, many rules of lighting and a few rules of decorum as she pushed or cajoled her way past police lines, into boxing gyms, high society galas and everything in between.

Sylvia's resulting images—intensely personal, lyrical, and sometimes devastating—brought an astonishing, information-packed energy to the pages of the Village Voice, the most widely-read alternative newspaper in the United States for four decades. As a staff photographer, she collaborated closely with writers including Guy Trebay, Anna Mayo, and James Ridgeway. At times, the black frames she printed around her images seemed the only things that kept her photographs' explosive vitality in check as they illustrated the most important stories of the day, or populated her various weekly photo columns: Unguided Tour, ER, Found Memories, Woodhaven Blvd, Coney Island Summer and more.
Decades before 95 million photos per day would be posted on Instagram, more than a few New Yorkers waited by the Astor Place newsstand on Tuesday evenings for the first copies of Wednesday's Voice, eager to see what off-kilter slice of last week's life Sylvia had frozen forever on Tri-X. The author of six books of photos including Unguided Tour and Red Light, Sylvia lives in Queens and is married to retired social studies teacher Elliot Brody. They are parents of award-winning actor Adrien Brody who, as a child, frequently accompanied Sylvia on her assignments.
Text: Mike Kamber/Bronx Documentary Center
Exhibition curated by Sylvia Plachy
Gallery Hours: Thurs-Fri 3-7PM + Sat-Sun 1-5PM
Free admission
📍: Bronx Documentary Center, 614 Courtlandt Ave, Bronx, NY 10451

The exhibition is made possible by the New York State Council on the Arts with the support of Governor Kathy Hochul and the New York State Legislature, by public funds from the New York City Department of Cultural Affairs in partnership with the City Council, the National Endowment for the Arts, and Con Edison.
Header image: Grandpa and Grandma,1979 © Sylvia Plachy
Interior images: A corner in the Bronx 1988; Claude Lanzmann 1985 © Sylvia Plachy