Our Response to Covid-19
We're doing what we can to make sure our community is safe during the pandemic.

We know this is a challenging time for all of us in our South Bronx community and beyond. We've witnessed the struggles that many face, as well as incredible acts of kindness and solidarity, from tenant leaders distributing food to cleaning staff taking their own initiative to keep people safe. The BDC has been inspired by the spirit of our community and we're doing what we can to make sure that the city's most vulnerable aren't left behind.
Since closing our doors to the public we have:
Transitioned all of our educational programs online. The BDC staff have made sure our students stay connected by facilitating WiFi and dropping off laptops and iPads to anyone who needs them.

Paired all current BJPL students with one of their teachers as a mentor for additional support and wellness check-ins.

Moved our exhibitions and public programs to an online format.

Donated over 100 face masks, eye protection, bottles of isopropyl alcohol, and Clorox wipes to the Lincoln Hospital EMS base.

Delivered food to Bronx residents directly affected by COVID-19.

Provided our Bronx community with a continuously up-to-date resource guide and news briefing with information about keeping safe and finding things families need--from help with food aid to free internet hookups.

Created and distributed downloadable flyers with information on COVID-19 and installed monitors displaying safety and health information at our BDC storefront.

Sounded the alarm—BDC Executive Director Michael Kamber has spoken about the dramatic lack of information and resources available in Bronx public housing; The New Yorker, NPR, and on a panel discussion with noted photojournalist Kadir van Lohuizen.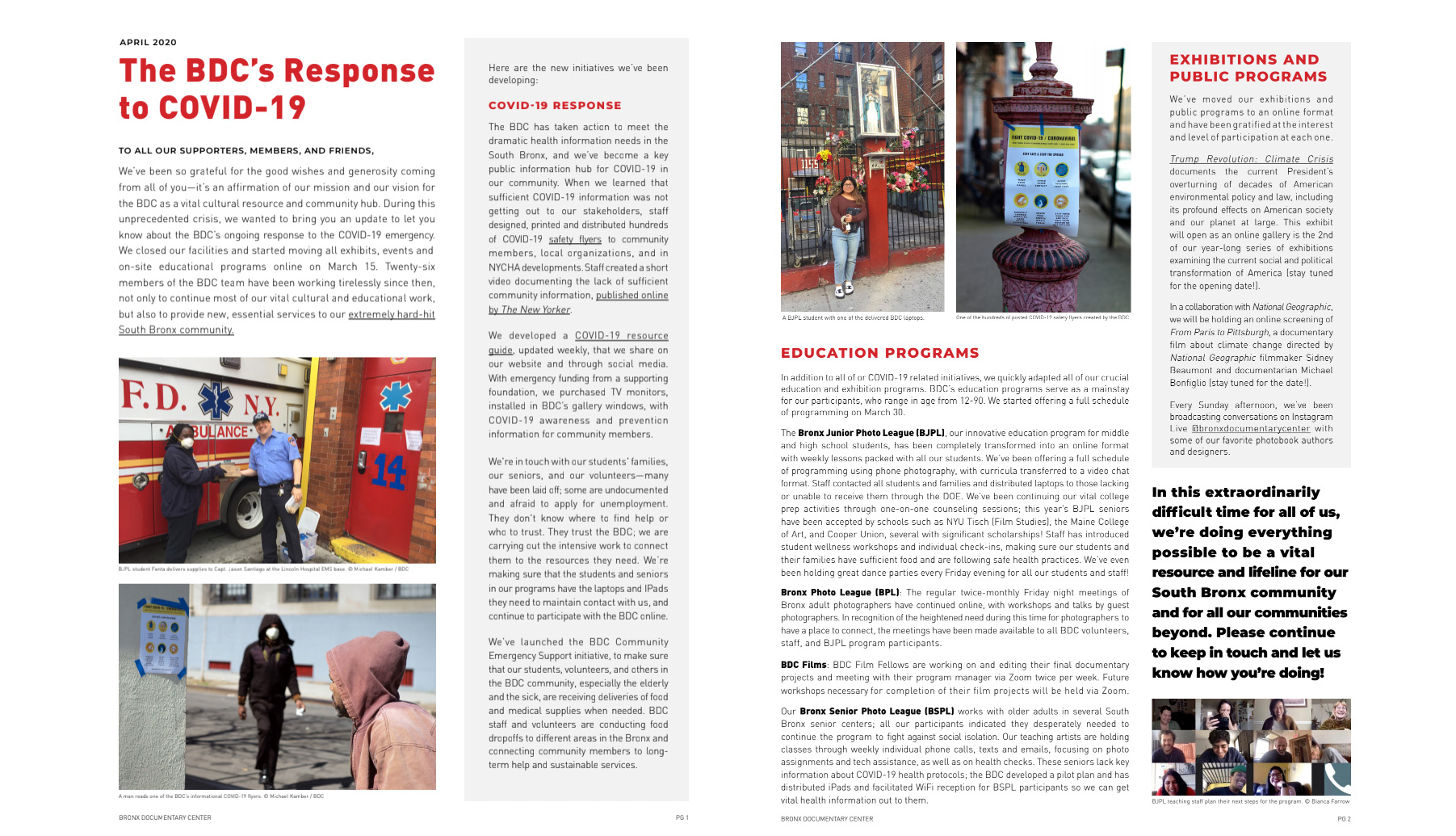 During these times of need, we can't thank you all enough for your continued support and understanding. As every donation counts towards helping us continue our work, we ask that you please consider becoming a member or making a donation. There has never been a more crucial time to give.


PHOTO: BJPL student Fanta delivers supplies to Capt. Jason Santiago at the Lincoln Hospital EMS base. © Michael Kamber / BDC