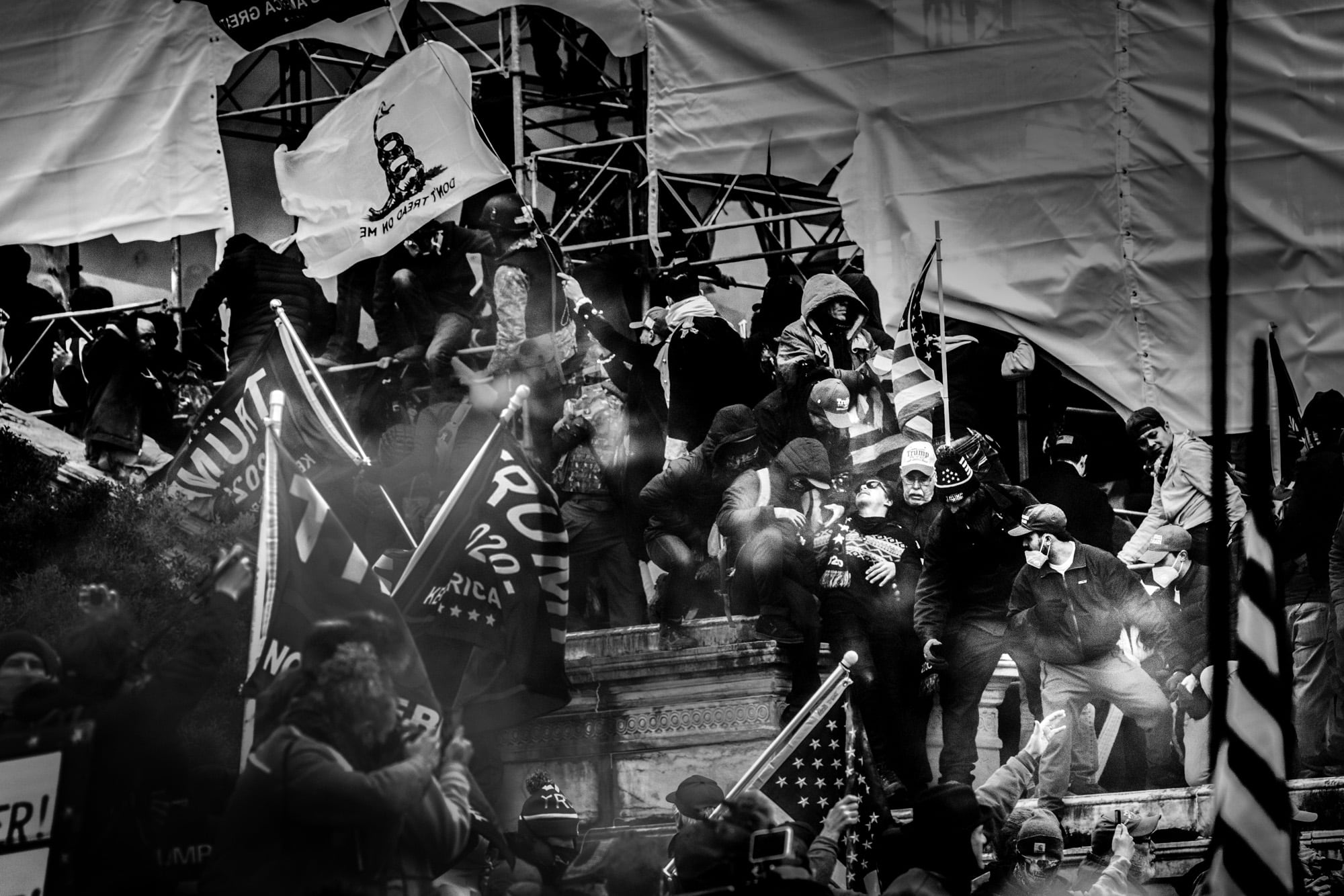 ON VIEW
Jan 29 - Mar 20, 2022
On January 6, 2021, for the first time in American history, an angry mob stormed the halls of Congress. Protestors destroyed federal property and assaulted police officers. Five people died as a result and more than 150 were injured. The mob successfully halted the 2020 election certification as they rampaged through the Capitol building, searching for legislators and narrowly missing members of Congress and Vice President Mike Pence as they were rushed to safety.
If the mob had nullified the popular state-by-state vote and forced the electoral process into the House of Representatives, as some planners hoped, 200 years of American democracy would be at an end.
Through photographs, video, and multimedia, the Bronx Documentary Center's exhibition, Storming of the Capitol, examines in detail the events of that day, seeks to put forth a historical record of events, and sheds light on the deep cleavages in our nation.
Featuring the work of Jason Andrew, Drew Angerer, Mostafa Bassim, Nina Berman, Gabriela Bhaskar, Victor J. Blue, Andrew Caballero-Reynolds, Camille Camdessus, Jon Cherry, Samuel Corum, Olivier Douliery, Ahmed Gaber, Balazs Gardi, Adam Gray, Ashley Gilbertson, Ron Haviv, Shuran Huang, Christopher Lee, Saul Loeb, Win McNamee, Luke Mogelson, Chris Morris, Kent Nishimura, Mark Peterson, Dakota Santiago, Roberto Schmidt, and Brent Stirton.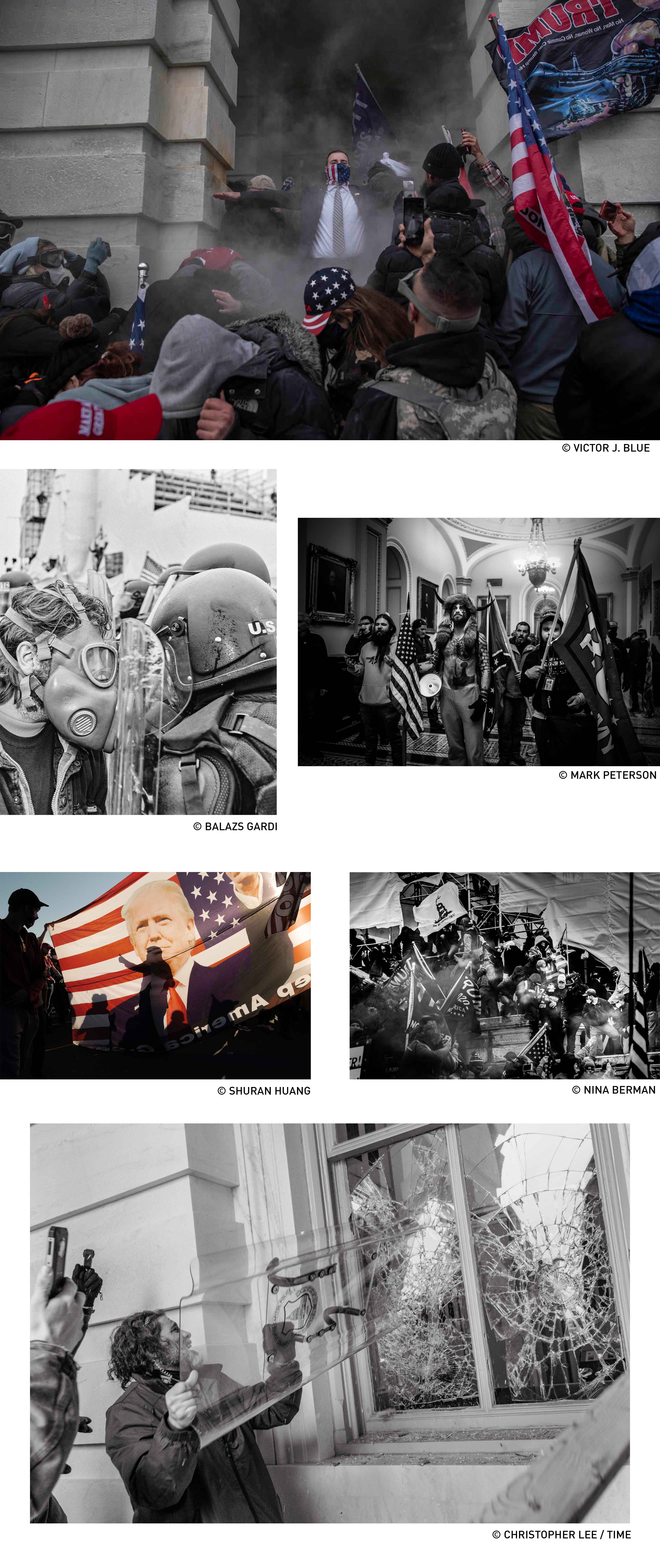 Exhibition curated by Michael Kamber and Cynthia Rivera.
Bronx Documentary Center, 614 Courtlandt Ave, Bronx, NY 10451
Gallery Hours: Thur-Fri 3-7PM + Sat-Sun 1-5PM


Know Before You Go

Please note in order to ensure the safety of all staff, and community members, all visitors are required to show proof of COVID-19 vaccination.
Proof of vaccination may include: NYC COVID Safe app: Android | iOS Excelsior Pass, CDC Vaccination Card (or photo of card) NYC Vaccination Record, or an official immunization record from outside NYC or the U.S. Valid I.D. includes your name accompanied by a photograph or your date of birth, such as: Driver's license, Government I.D. card, IDNYC card, Passport, or School I.D. card. If you are visiting from out-of-state, please follow all applicable health and safety protocols required by the New York State COVID-19 Travel Advisory. Find a vaccine site near you here.
Masks are required for all guests, regardless of vaccination status and regardless of local or state guidelines.
Forgot your mask? Just ask. PPE available at the front desk.
IN THE MEDIA
What ArtReview Editors Are Looking Forward to in January 2022 | ArtReview | JAN 11, 2022
This Photo Exhibition Looks Back At What Really Happened On Jan. 6 | Buzzfeed News | JAN 6, 2022
On the Ground on January 6: Harrowing New Images From the Capitol Riot | Vanity Fair | JAN 6, 2022
New Exhibit in the Bronx to showcase pictures, videos of the Capitol attacks | News 12 | JAN 7, 2022
A year later, the capture of the capitol in pictures | Konbini Arts | JAN 7, 2022
Storming of the Capitol at the Bronx Documentary Center | F-Stop | JAN 7, 2022